These recipes tastefully combine beef with fruits and veggies to achieve the perfect balance of taste, nutrition and simplicity.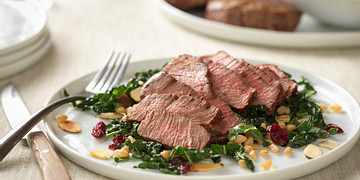 Beef Filets with Ancient Grain & Kale Salad
The most tender of them all, the Filet, is served beside a salad of faro, kale, dried cranberries and almonds.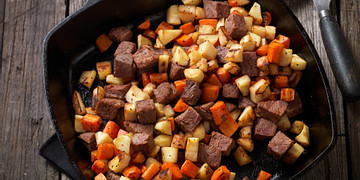 Beef Steak and Root Vegetable Hash
Steak cubes, carrots and parsnips cooked in cast iron. Beef hash isn't just for breakfast when steak and hearty veggies are involved.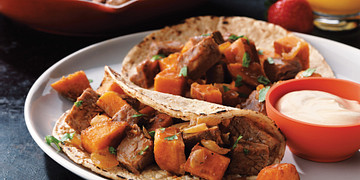 Beefy Sweet Potato Hash
The perfect way to give leftover steak or roast new life, this hash is made with sweet potatoes and taco seasoning.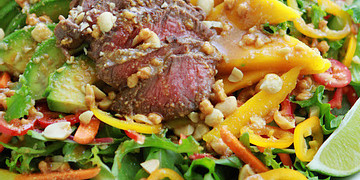 Easy Sirloin Thai Salad
Developed with blogger, Lauren's Latest, this salad is a treat for all the senses. Colorful, crunchy toppings join grilled Top Sirloin Steak on a bed of greens for a taste sensation.
Farmer's Market Vegetable, Beef & Brown Rice Salad
Packed with protein, veggies and brown rice, this salad is a colorful treat for your eyes and stomach.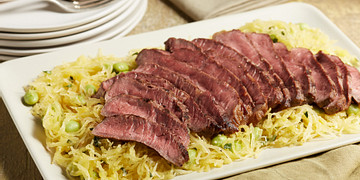 Grilled Sirloin Steak with Spaghetti Squash and Edamame
Spaghetti squash gets tossed with lightly buttered edamame as versatile Top Sirloin Steak is grilled to your liking. See, dinner can be that easy!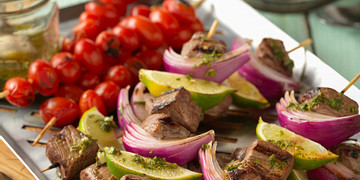 Mojo Beef Kabobs
Steak cubes are threaded on skewers with lime and onion then grilled to perfection. A sauce of citrus, herbs and spices provides the finishing touch.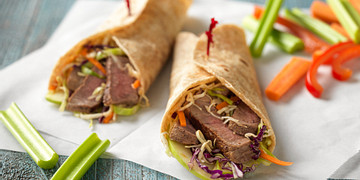 Mu Shu Steak & Apple Wraps
Hand-held and perfectly portable, these wraps are great on the go.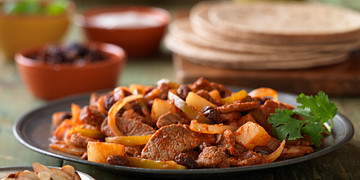 Picadillo-Style Beef Stir-Fry
Steak, potato cubes, onions and green peppers are stir-fried and simmered in a tomato sauce with raisins for a unique flavor combination.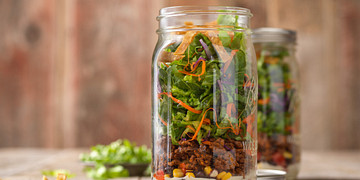 Salad Shakers
Shake up your lunch routine. Mix your favorite salad ingredients with Ground Beef on top.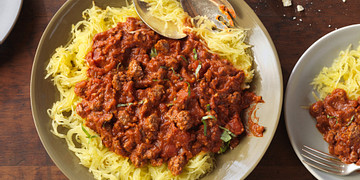 Spaghetti Squash with Meat Sauce
You'd be amazed at how easy it is to add an extra serving of veggies with this recipe! Hearty Ground Beef in tomato sauce on top of cooked spaghetti squash.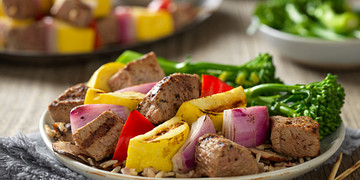 Dijon Steak Kabobs with Mushroom Wild Rice
A flavorful, tenderizing marinade gives the kabobs of steak, onion, squash and peppers a unique and savory taste.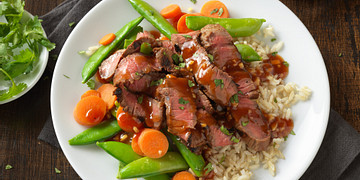 Grilled Top Round Steak with Plum Ginger Barbecue Sauce
After a soak in a tenderizing marinade of plum sauce, ginger and lemon juice, Top Round Steak is grilled, sliced and served with stir-fried veggies and rice.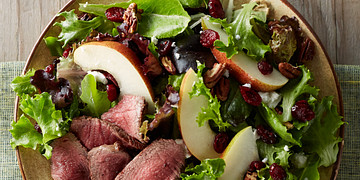 Beef Tenderloin, Cranberry and Pear Salad
Ready in just 25 minutes, this will be a go-to for quick & nutritious weeknight meals.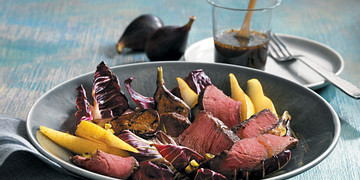 Treviso, Fig & Pear Steak Salad
Top Sirloin Steak, radicchio and figs are grilled then chopped and topped with thinly sliced pear and pistachios. Not your everyday salad.