We celebrate Valentine's Day this month but even more importantly, February is American Heart Month.  Here's an elegant, delicious, heart-healthy meal for two that will be sure to impress your significant other.
Fruits & Veggies–More Matters has the perfect dinner entrée: Pan Seared Salmon and Apple Salad.  Salmon is known to be a source of omega-3 fatty acids, which, according to the Mayo Clinic, helps to lower your risk of heart disease.  In addition, this recipe features whole wheat pasta, fresh greens, apples, dried cranberries, slivered almonds, as well as a dressing made from heart healthy olive oil, cider vinegar, apple juice, and spices.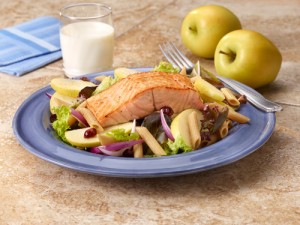 Courtesy of Fruits & Veggies–More Matters
Berries are a source of antioxidants, so treat your heart with this delicious dessert–Heart Healthy Fruit Crisp.  In addition to the berries, you'll add apples, oats, honey, coconut oil, spices, and chia seed, which is also a source of omega-3 fatty acids.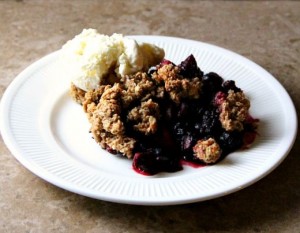 Courtesy of Thank Your Body
I'll leave you with a few tips from the Centers for Disease Control to help make your heart as healthy as it can be:
Schedule a visit with your doctor to talk about heart health (regular check ups are important!)
Add exercise to your daily routine
Increase healthy eating (this includes eating at home more frequently and choosing lower sodium options)
Take steps to quit smoking
Take medication as prescribed (for high blood pressure and cholesterol, specifically)
I'm back next Monday with a hearty, yet low-cal potato soup recipe to celebrate Potato Lover's Month.
See all posts