January is National Dried Plum Breakfast Month.  Dried Plums, also known as prunes, are commonly eaten in the morning.  They are added to cereals and many breakfast pastries like Danish and sticky buns.  Dried plums are an excellent source of dietary fiber and a good source of Vitamin A.  In addition, they are fat free, cholesterol free, and sodium free.  When pureed, dried plums make a great fat substitute in baked goods.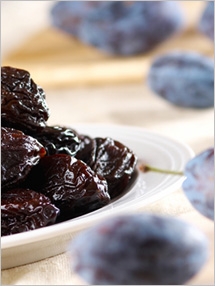 Courtesy of Fruits & Veggies–More Matters
While dried plums make excellent breakfast fare, they're also terrific at other times of the day.  This recipe for Chicken Marbella, features dried plums as one of the ingredients in this savory dish.  Chicken is marinated in the dried plums, along with oil, vinegar, capers, olives, and herbs.  It is then baked in brown sugar and wine.  The combination of the capers and dried plums create a delicious sweet/sour flavor that goes well with the chicken.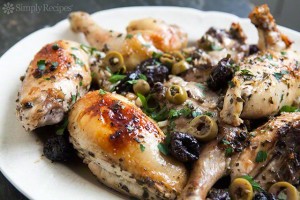 Courtesy of Simply Recipes
Khoshaf is a traditional Egyptian dish made during the holiday of Ramadan to break the fast.  It's similar to a fruit compote, but uncooked.  The ingredients include dried plums, raisins, dates, dried apricots, dried figs, walnuts, and almonds.  You'll soak the ingredients in water overnight to create a syrupy juice.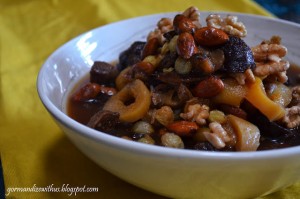 Courtesy of Gormandize
Dried plums are ideal for snacking and No Bake Double Chocolate and Prune Energy Bars are sure to be a hit.  These delicious bars contain dried plums, almonds, dark chocolate chips, flaxseed, cocoa powder, honey and peanut butter.  No baking required–simply pop them into your refrigerator for a few hours and cut into bars once they are set.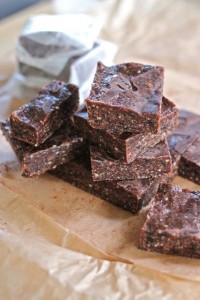 Courtesy of Eat Good 4 Life
I hope these recipes will help you expand your view of dried plums.  I'll be back next week with some delicious recipes for one of winter's most versatile and healthiest root veggies–turnips.
See all posts