I usually find the most difficult gifts are the little ones–hostess gifts, something for the kids' teachers, etc.  I get tired of doing the usual candle, potpourri routine each year and I started thinking about what I've received that I really appreciated.  Typically, it's always ended up being something homemade.  Things like fruit or nut breads, cheese spreads or a fruit/nut snack mix.  So, I decided this year I'm going to do the same!
Pumpkin bread is ideal for this time of year and you can even include a recipe card so your recipient can make it him/herself.  Same goes for a healthy cookie like a biscotti.  Just add dried fruit like cranberries or apricots and some nuts to the batter.  Use egg whites and whole wheat flour as well.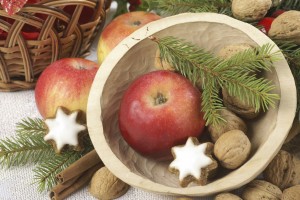 Fruit baskets always make a nice gift.  Personalize it by getting your own basket and hand selecting the fruit–buy different varieties than you'd normally find in the typical fruit basket and wrap it up with colorful paper and a pretty bow. 
Trail mix or snack mixes are also popular, especially for those people who are on the go (like your kids' teachers!).  Many of the store bought varieties have a high sodium content so it will be a healthy alternative to receive one that's homemade like this Fruity Trail Mix recipe.
Fruits & Veggies–More Matters is hosting a gift giving ideas Twitter Party on December 7th at 4:00 p.m. (Eastern Time) if you're interested in getting more ideas or sharing some of your own.  It's easy to join the conversation, if you have a Twitter account just log in (or create an account) and enter hashtag #HolidayGifts.
See all posts