It's hard to imagine a summertime picnic, pool party, or barbeque without slices of watermelon and cantaloupe.  Summer melons are a must have this time of year for many reasons.  They're plentiful in supermarkets, road side stands, and farmer's markets, melons are high in water contents and perfect for helping to keep you hydrated during these hot summer months, and their flavor is sweet and refreshing.  An extra bonus is both watermelon and cantaloupe are excellent sources of both Vitamins A and C.  While it's simple to slice a wedge of one of these melons and enjoy, I've gathered some recipes using them in other ways that take advantage of their flavor in creative ways.
This Watermelon Gazpacho from Fruits & Veggies–More Matters is a great light meal for lunch or as a starter at dinner.  Watermelon, cucumber, garlic, onion, lime juice, jalapeno pepper, olive oil, fresh basil, and ground pepper are combined for a refreshing blend of flavors.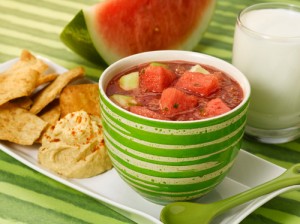 Courtesy of PBH
Cantaloupe and Mozzarella Caprese Salad is an interesting blend of flavors.  The salt in the dressing brings out the sweetness of the cantaloupe.  You'll use cantaloupe, fresh mozzarella, sliced prosciutto, basil, mint, olive oil, honey, balsamic vinegar, salt and pepper to taste.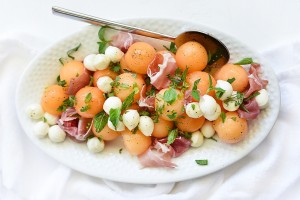 Courtesy of Foodie Crush
Watermelon Salsa can be used in many ways.  Dip your favorite tortilla chips in it or use it to dress up grilled fish or chicken.  It's simple to make and you'll need diced watermelon, diced red onion, chopped cilantro, chopped mint, finely chopped jalapeno pepper, and lime juice.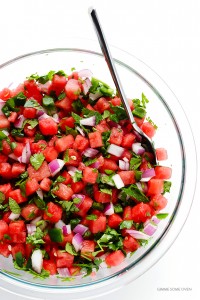 Courtesy of Gimme Some Oven
Summer Cantaloupe Slush is a great way to beat the heat.  There's only three ingredients to this recipe–four cups of frozen cantaloupe cubes, one cup of water, and a little lime juice.  Put everything in a blender and blend until smooth.  You'll end up with a refreshing and healthy treat!

Courtesy of Apron Strings Blog
I'll return next Monday with some patriotic recipes to get you ready for your July 4th celebrations.
See all posts