Summer is the perfect season to pack up and enjoy a picnic.  You can go casual with a few basic sandwiches and snacks or go all out with gourmet salads, mini quiches, and fun desserts.  The point is to have some fun and make sure you're prepared.  A few tips from seasoned picnic "pros" to make your next picnic adventure a success are:
Heat a clean brick or two and place it in the bottom of a regular cooler to keep hot food heated. Or, use an insulated carry case for hot items.
Freeze jugs of water to keep everything cold instead of using ice.  It keeps the water contained, eliminating a cooler full of ice water at the end of the day. You can also keep ice in sealed bags.
Freeze drink packs ahead of time and place in your cooler.  They will melt as they day goes on and you'll end up with chilled beverages.
Bring along plastic trash bags to collect waste at the end of your picnic.  Most locations do have waste cans, but on the off chance there aren't any, you'll want to be prepared.
Paper plates and disposable utensils always work best.  They are easy to clean up when you're finished with your meal.
If you can, try transporting your food in plastic (non-breakable), closed containers to reduce the chance of any spills and breaks.
What you serve at your picnic is really up to your own preference, but I pulled together a few recipes that are interesting, but simple enough so that you're not spending all day preparing for your picnic.  Grilled Chicken Lettuce Wraps with Blueberry Bell Pepper Relish are one of Fruits & Veggies–More Matters featured healthy plate recipes.  You'll want to make the filling ahead of time and have the lettuce leaves ready so that when you arrive at your destination, you can then assemble your wraps.  These are packed with a variety of fruit and veggies and are a wonderful light option, coming in at only 240 calories per serving.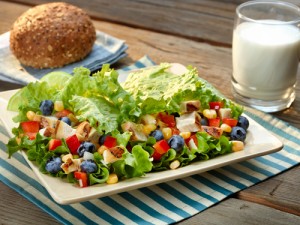 Courtesy of Fruits & Veggies–More Matters
This Veggie Muffaletta goes way beyond the average sandwich.  You'll start by hollowing out a loaf of French-style Country Bread.  Fill it with a variety of vegetables like sun dried tomatoes, cherry peppers, olives, thin sliced eggplant, thin sliced zucchini, thin sliced onion, spinach, thin sliced Portobello mushroom, and grated carrot.  You'll marinate the zucchini and eggplant in Champagne vinegar, olive oil, garlic, and herbs before cooking briefly.  Once the sandwich is stuffed, wrap it in plastic wrap and let it sit in the refrigerator for at least 8 hours before serving to allow the flavors to blend.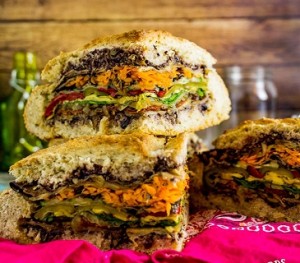 Courtesy of Boards and Knives
Lemonade Fruit Salad is a simple dessert idea that's perfect for summer.  The lemonade keeps the fresh fruit from turning brown and adds a little extra flavor to the already sweet fruit. Add fresh berries like strawberries and blueberries, some melon, banana, and grapes with one can of frozen lemonade concentrate.  Keep cool until you're ready to serve.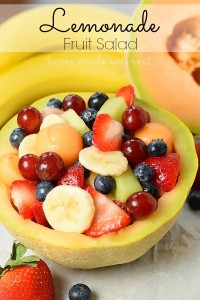 Courtesy of Home Made Interest
Enjoy and next week I'll be back with some recipes highlighting one of my favorite summer fruits ….melons.
See all posts