This coming weekend is we celebrate the unofficial kick-off to summer …Memorial Day and a three day weekend.  Traditionally this means backyard barbeques, pool parties, or park picnics.  Whatever fun event you've got planned, try to make it as hassle-free as possible, so you're able to enjoy yourself and not be burdened in the kitchen.  The best way to achieve this, is to prepare simple dishes or select recipes that allow you to do much of the preparation ahead of time.
This Strawberry, White Bean and Edamame Salad from Fruits & Veggies–More Matters is a terrific side dish option.  It includes fresh strawberries, which are in season, white beans, shelled edamame, baby spinach, fresh basil, red onion, and feta cheese.  A light vinaigrette adds more flavor.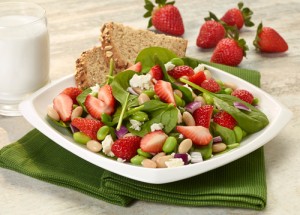 Courtesy of Fruits & Veggies–More Matters
Everyone loves dip and this Lightened Up 7-Layer Dip is the perfect guilt-free version your guests will enjoy.  Plus, it's got a great patriotic theme to it.  Refried beans, hummus, salsa, guacamole, pico de gallo, shredded cheese, cherry tomatoes, and black beans are used.  Assemble this the morning of your party and place in the refrigerator until guests arrive.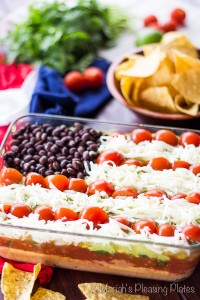 Courtesy of Mariah's Pleasing Plates
Honey Chicken Kabobs are another recipe where the prep work is done ahead of time.  Create a marinade out of vegetable oil, honey, and soy sauce.  Reserve a bit of the marinade to brush on the chicken while grilling.  The rest you'll put in a bowl and add cut up chicken breast, 2 cloves of garlic (whole), cut up bell pepper, and cut up onion.  After marinating at least 2 hours in the refrigerator, you'll thread the chicken and veggies on skewers and grill until the chicken is completely cooked.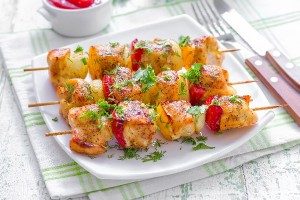 Courtesy of KitchMe
Enjoy these simple, yet delicious dishes at your Memorial Day event and have a wonderful holiday weekend.  I'll return next week with some healthy Asian-inspired dinner ideas.
See all posts