Meatless Meals have gained extra popularity in recent years with the launch of the Meatless Monday campaign, encouraging people to incorporate a meatless meal each Monday to improve both their health and the health of the planet.  If you observe the season of Lent, which runs from Ash Wednesday until Easter Sunday, you know that each Friday you have even more reason to want to add a healthy meatless meal to your menu index.  The key to a nutritious and satisfying meatless meal is to ensure you're incorporating protein and fiber into the dish.  Legumes, nuts, soy, quinoa, eggs, and dairy are some meatless protein sources available.  Fiber is readily available in many fruit and veggies such as apples, spinach, broccoli, pears, and bananas just to name a few.  There are the typical meatless dishes (veggie pizza or a veggie stir fry over brown rice), but I've collected a few recipes I think are interesting and ones you may want to add to your menu lineup even on a regular basis they're so good.
20 Minute Lemon Broccoli Pasta Skillet is perfect for a weeknight.  It's super quick to prepare with minimum clean up.  Along with the broccoli and pasta, you'll be adding fresh spinach to this dish.  Lemon, garlic, fresh parmesan, and crushed red pepper add flavor.  A tip: To add some protein to this recipe, substitute the protein "plus" variety of dried pasta to this dish.  I know Barilla Pasta carries a "Protein Plus" variety that would work well.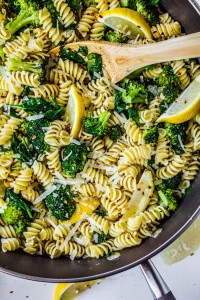 Courtesy of The Food Charlatan
Easy Tuscan Bean Soup is another recipe perfect for a weeknight.  It will taste like you slaved over the stove all day making it, but it only takes 30 minutes!  This recipe is packed with healthy veggies–cannellini beans, onion, carrots, celery, zucchini, yellow squash, kale, and garlic.  You'll use vegetable broth as your base and add lots of herbs and spices.  Serve this soup with a slice of crusty bread and you've got a hearty meal.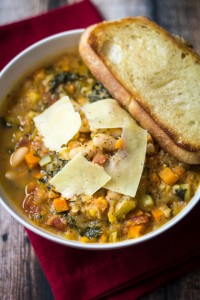 Courtesy of The Wanderlust Kitchen
Rolly Veggie Cannelloni are sure to be a crowd pleaser, especially if you have kids.  This recipe is a healthier take on the traditional lasagna idea, but it incorporates grated carrots and chopped spinach.  Serve with a side of fruit to make this meal complete.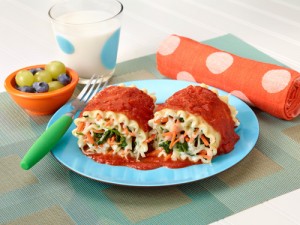 Courtesy of Fruits & Veggies–More Matters
Enjoy these meatless meals on Monday, during the Lenten season, or any day you need a healthy, flavorful recipe.  I'll return next week with some recipes that feature fresh snow peas–one of the first veggies of the spring season.
See all posts