---
National Something On A Stick Day is in March, and for me that translates to kebabs! But if you missed it, worry not … warm weather brings us the perfect time to start thinking about grilling, and kebabs are a an ideal menu choice.  While many folks think of meat as the traditional ingredient, you can use almost anything for your skewer, as you'll see in these delicious recipes I've collected.
First up is a recipe from Fruits & Veggies–More Matters featured in their healthy plate series.  Pesto Chicken Vegetable Kebabs are a complete dinner idea, which can be made year-round.  Skinless, boneless chicken breast and assorted veggies such as bell pepper, cherry tomatoes, and zucchini are marinated in lemon juice and a pesto sauce for an hour.  The chicken and veggies are then threaded onto skewers and placed on either a grill or under a broiler to cook.  Serve over brown rice that is made with canned pumpkin for extra flavor.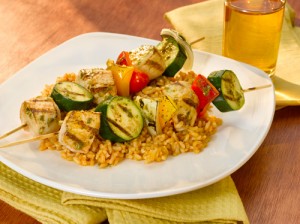 Courtesy of Fruits & Veggies–More Matters
A healthy and flavorful side dish that can be either roasted or grilled is this recipe for Marinated Vegetable Kebabs.  A variety of colorful veggies including red bell pepper, yellow bell pepper, green bell pepper, red onion, mushrooms, zucchini, yellow squash, and cherry tomatoes are marinated in olive oil, garlic, lemon juice, and herbs.  Simple yet delicious.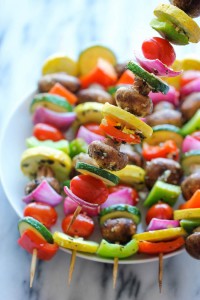 Courtesy of Damn Delicious
While asparagus is in season, you'll definitely want to try these Salmon and Asparagus Kebabs.  The tangy, yet sweet marinade of soy, brown sugar and ginger, goes well with the fish and works well with the grilling process.  You'll want to cook the asparagus in boiling water ahead of grilling just until barely tender and immerse in cold water to stop the cooking process immediately after.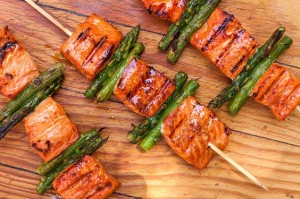 Courtesy of Chowhound
For dessert we have Grilled Fruit Kebabs with White Chocolate Drizzle.  Blackberries, strawberries, and pineapple are threaded on skewers and grilled for about five minutes.  White chocolate chips and one tablespoon vegetable oil are heated until melted and drizzled over the fruit and served.  It's a sweet treat you don't have to feel guilty about enjoying.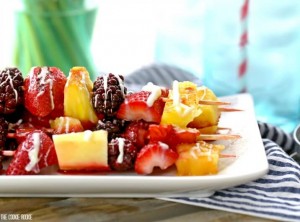 Courtesy of The Cookie Rookie
Enjoy and I'll be back next week with some great recipes featuring one of America's most popular fruits–bananas.
See all posts