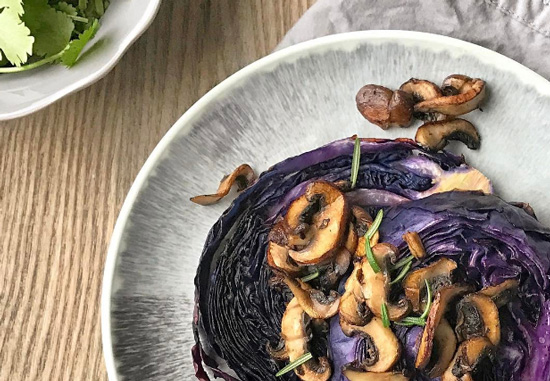 This heart month, be sure to fill your plate with fruits and vegetables in a rainbow of colors, especially purple. Anthocyanin is the plant polyphenol, an antioxidant, responsible for the beautifully hued purple color of many of our fruits and vegetables including blackberries, blueberries, black plums, prunes, grapes, eggplants, purple sweet potatoes, purple asparagus, and purple cabbage. Consuming anthocyanin-rich fruits and vegetables can help to decrease the risk of cardiovascular disease and hypertension. And, they're so tasty! Here are some easy ways to add more purple to your plate.

9 Easy Ways to Add More Purple to Your Plate
Add fresh or frozen blueberries or blackberries to cereal, smoothies and salads.
Grab a fiber-filled snack of blueberries, blackberries, or grapes.
Pair nuts like pistachios, almonds, or walnuts with raisins or prunes.
Try steamed purple asparagus as a side dish with a sprinkle of parmesan cheese.
Roast purple cabbage and purple carrots to include in salads or grain bowls.
Create a colorful coleslaw with purple cabbage and purple carrots.
Purple sweet potatoes are great baked, mashed, or made into fries.
Grate purple cauliflower for a beautiful cauliflower 'rice' pilaf.
Try purple cabbage steaks (recipe below) as a side or make it a meatless meal topped with beans and other vegetables.
Easy Purple Cabbage Steaks with Sautéed Mushrooms
Makes 5 'steaks'

Cut red cabbage into steaks, keeping the core.
Drizzle with extra virgin olive oil and season with salt and pepper.
Roast in 400° F oven for 30 minutes, flipping once.
Sauté 8 ounces sliced mushrooms and 2 cloves garlic in olive oil over medium-high heat until cooked, about 5-7 minutes.
Top cabbage steaks with mushrooms, sprinkle with parmesan cheese and rosemary.
Melissa Hehmann, MS, RDN, CDE, ACE-CPT, RYT
Regional Advisor, Health and Wellness.
Meijer, Inc.
Insider's Viewpoint Archive
Fruit & Vegetable Recipes
Video Center: Selection, Storage, and Preparation of Fruits & Vegetables.