What's in and what's out for 2017 food-wise?  According to restaurant and hotel consultants Baum & Whiteman, there are some key food trends to look for this year.  A few worth noting are:
Greens of All Kinds
Remember when kale was all you heard about?  Well, now look for chefs to begin using chard, turnip greens, mustard greens, carrot tops, and seaweeds.  Greens are terrific sources of vitamins A, C, K, and fiber.  Mustard Greens with Apple Cider Dressing is a perfect recipe that highlights any kind of green.  In a large bowl you'll need to whisk together apple cider vinegar with canola oil, stone ground mustard, and lemon juice.  Add shredded mustard greens, sliced Granny Smith apples, chopped dill, and season with salt and pepper.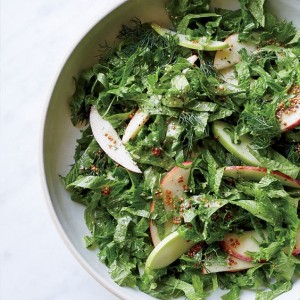 Courtesy of Food and Wine
Vegetarian Comfort Food
There is an increase in the amount of veggies that are appearing on dinner plates.  What we should see is consumers looking to replace animal proteins with more vegetarian options.  Casseroles, vegetarian chilies and stews are just a few examples.
Bowls
Over the past year, there's been a trend to create bowls that blend complementary flavors together.  Expect to see that trend continue in 2017.  Bowls are easy to transport and consume on-the-go (think eating lunch at your desk).  They often combine many healthy ingredients, and it's a great way to enjoy multiple flavors and textures together.  Chili Roasted Sweet Potato and Black Bean Quinoa Bowl is a great example of a bowl that has many different ingredients that blend well.  In addition, it's vegetarian, yet very filling.  Sweet potatoes, black beans, quinoa, and lettuce greens are the basis for the bowl.  You'll create a delicious cilantro avocado dressing that has just a little kick from some chili powder and cayenne pepper.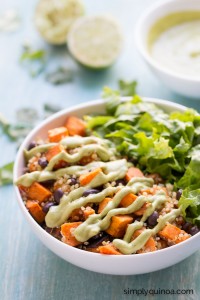 Courtesy of Simply Quinoa
Tune in next week if you want to learn more about broccolini.  I'll have some great ways to use this delicious veggie.
See all post