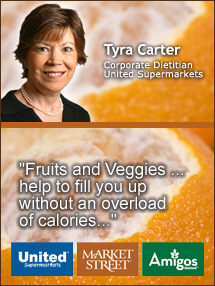 February is American Heart Month and there are numerous ways a better lifestyle can help reduce your risk of heart attack and stroke, improve cardiovascular function and potentially help you live a longer life.
So what exactly should you be eating for optimal heart health?
Along with increasing intake of omega-3-fatty acids and reducing intake of saturated fat, trans fat and sodium, one should focus on increasing fiber and foods rich in antioxidant nutrients. Antioxidants such as vitamin C, vitamin E and beta-carotene can prevent damage to your heart and blood vessels and even repair damage that has been done.
These nutrients and fiber can be found in a wide array of fruits and vegetables. An added bonus is that the majority of these foods are naturally free of fat, cholesterol and sodium.
Take advantage of these winter/seasonal items in your produce section:
Add green leafy vegetables such as kale to a stir-fry or soup.

Combine sweet potatoes and apples for a tasty side dish or dessert.
Add citrus fruits such as clementines or tangelos to green salads, or use as a tasty whole food snack.

Use spaghetti squash as an alternative to traditional pasta and serve with marinara sauce.
Fruits and Veggies: More Matters – they help to fill you up without an overload of calories due to their high content of water and fiber! As such, they are an excellent choice to help manage your weight and reduce the daily work load of your heart.
Tyra M. Carter, PhD, RD, LD
United Supermarkets, L.L.C.