Usually by mid to late August, parents find themselves counting down the days until school starts.  Camp has typically ended and all those favorite summer activities that your kids found to be so appealing in the beginning of summer, aren't as much fun almost three months later.  So what can you do other than sit them in front of the TV for the next few weeks??  Thankfully, there ARE productive activities your kids can do and they actually involve fruit and veggies of all things!  Culinary projects with your kids can be both educational and fun (for you and your child).  In addition, this is something that won't require a lot of expertise, so it's great for "cooks" of all ages.
This past July 4th, my niece, Brianna, who is 11-years-old, decided to create a patriotic treat for our dinner table.  Brianna loves to experiment in the kitchen, so she took a bit of time during the afternoon to spend on her latest masterpiece, which included berries from the refrigerator and some mini marshmallows.  The end result was the American flag as seen below.  Super simple, cute and she really enjoyed preparing it for everyone.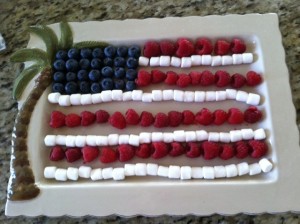 Berry Popsicles are a little more advanced and may need more supervision, but these refreshing treats are a great culinary project to take on with your kids.  A definite plus is the fact they are healthy, as the ingredients include Greek yogurt, honey, vanilla and berries.  At only 53 calories per serving and no fat, you can feel good about indulging in these sweet treats yourself!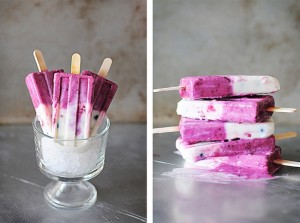 Photo courtesy of Muy Delish
Make this recipe for Homemade Granola and you'll have a wonderful topping for yogurt, fruit, a quick snack or even eat as a cereal.  Again, this will use some supervision for younger children as it does requiring some cooking.  Once you try this homemade version you're likely to shun the store-bought variety and an added bonus is this version contains less fat and no preservatives. You'll use old fashioned oats, coconut chips, spices, your favorite nuts or seeds, dried fruit, oil, brown sugar and honey.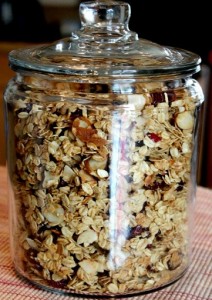 Photo courtesy of True Aim
Fruits & Veggies–More Matters has more ideas for involving your kids in the kitchen, which will help them make better nutrition choices as they grow.  Visit their Kids In The Kitchen page to see how you can involve them in grocery shopping, cooking, and even gardening.  I'll be back next week with some reason you should be including sweet grapes to your diet.
See all posts