Right about now you should be starting to reap the reward of those tomato plants you labored over back in the spring months.  Now through early fall, fresh tomatoes will be a plentiful staple at roadside stands and farmer's markets.  Along with being one of the most flavorful veggies of the season, tomatoes are also one of the most nutritious.  They are low in fat, very low in sodium. cholesterol free, high in both Vitamins A and C, and a good source of potassium.  Slice tomatoes and add to your salad or sandwich, snack on fresh cherry or grape tomatoes, or layer a tomato with some fresh basil and mozzarella, then drizzle with a bit of balsamic vinegar for a delicious caprese salad.
In addition to the more frequent ways you can use fresh, summer tomatoes, I've pulled a few simple recipes together.  Fresh Tomato Basil Pasta with Lemon and Garlic is the perfect light summer meal.  Cooked penne pasta is combined with a fresh sauce made from chopped tomatoes, minced garlic, diced shallot, diced basil, lemon juice, olive oil, and salt to taste.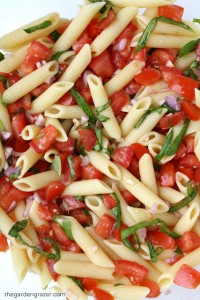 Courtesy of The Garden Grazer
Tomato Cucumber Salad with Poppyseed Dressing combines two summertime veggie favorites.  Your garden may also be overflowing with cucumbers right now and, if not, you can pick them up at the supermarket or local farmer's market for next to nothing.  Dice your tomatoes and cucumbers and then combine olive oil, apple cider vinegar, sugar, plain Greek yogurt, ground mustard, garlic powder, a pinch of salt, and two teaspoons of poppyseeds for the dressing.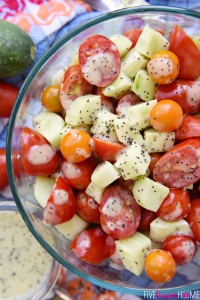 Courtesy of Five Heart Home
This Tomato Ricotta Phyllo Tart makes a great meatless meal.  Simply add a side salad and you're set!  You'll need 1 1/2 – 2 pounds of tomatoes and you can use different sizes (feel free to use an assortment of heirloom and grape or cherry in the mix), one roll (21 sheets) of phyllo dough, olive oil, ricotta cheese, chopped fresh basil, chopped fresh chives, lemon zest, salt and pepper to taste.  You'll need to layer the phyllo dough, brushing with olive oil after each layer until stacked on a baking sheet.  Combine the cheese, basil, chives, lemon zest, salt, and pepper, and spread evenly on dough.  Top with sliced tomatoes and sprinkle a little more salt and pepper on top.  Bake at 400 degrees for 30 minutes.  You can serve the tart warm or at room temperature.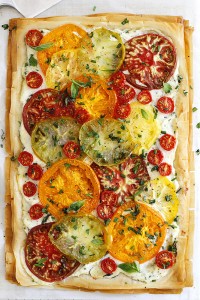 Courtesy of Girl Versus Dough
Have a great week and I'll be back next Monday with my favorite veggie side dish recipes.
See all posts