Grapes are a favorite fruit nationwide and it's no surprise considering they are popular in all forms–fresh, dried (raisins), and the liquid form (grape juice). Grapes are also readily available year-round in your local supermarket, which makes it easy to add them to your daily diet.  Here are the top five reasons I rate grapes as a 'go-to' fruit for snacking and more:
Versatile – Grapes are wonderful eaten alone, added to green salad (think sweet and savory) or included in other fruit creations.  I'll show you some interesting options later in this blog.
Nutrition – Flavonols (antioxidants) that are found in grapes have been shown to benefit the cardiovascular system.  Grapes are also fat free, low in sodium, cholesterol free and a 3/4 cup is only 90 calories.
Portable – Grapes make a wonderful snack that travels well since you can easily carry them around with you.  They are perfect for taking along to the beach, pool, picnics, sporting events or car rides.
Kid-Friendly – Little hands can easily snack on grapes and children love their sweet flavor.  As a parent, you'll feel good they are eating something healthy too!
Taste – Green or red, you can't go wrong.  Grapes sweet flavor is something you can always count on and they never go out of season.
I mentioned how versatile grapes are and I wanted to share a few recipes using grapes you might not typically create.  Broccoli Grape Harvest Salad combines different flavors to create a fresh salad that is flavorful and healthy.  Broccoli, grapes, pasta, onion, turkey bacon, and pecans are combined with a light dressing you'll create from scratch.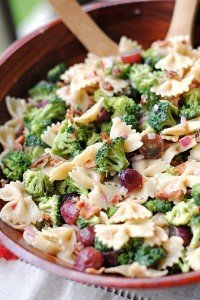 Photo courtesy of Eat Yourself Skinny
Roasted Grapes with Thyme, Fresh Ricotta and Grilled Bread is a wonderful appetizer.  The ingredients are basic–grapes, olive oil, salt, thyme sprigs, rustic bread and ricotta cheese.  A really simple, yet elegant dish.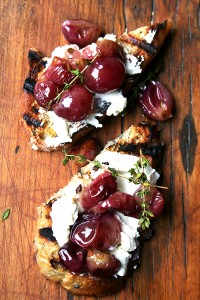 Photo courtesy of Alexandra's Kitchen
Pecan Crunch Grape Salad will definitely satisfy your sweet tooth.  I modify this recipe to reduce the amount of sugar used in the crunch topping and I use reduced fat cream cheese and sour cream as well to lighten the recipe even further without losing any taste.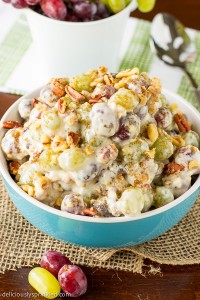 Photo courtesy of Deliciously Sprinkled
Fruits & Veggies–More Matters features this Grape and Cashew Salad Sandwich as one of their healthy plates.  It's a perfect lunch entrée and combines low-fat cottage cheese, red grapes, cashews, and fresh parsley for a delicious sandwich spread.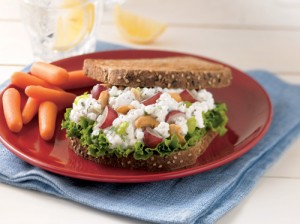 I hope you enjoy these fresh recipes and I'll return next week with some ways to use tomatoes from your garden.
See all posts