Andrew Dole, RDN, CEC
Everyday Chef, Fruits & Veggies—More Matters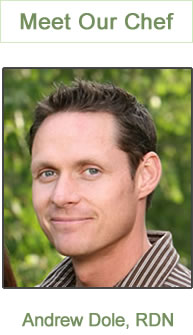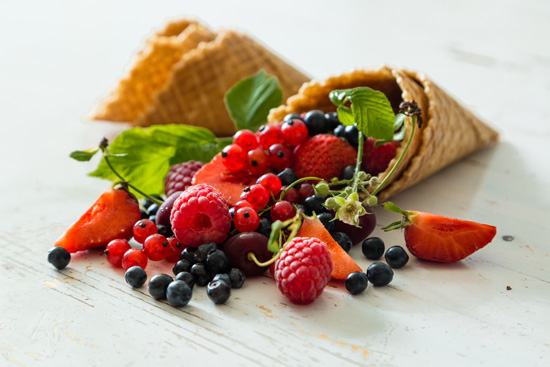 No spoons are necessary with these fun-to-make Greek yogurt and fruit waffle cones! This fruit- and protein- packed treat eats just like an ice cream cone – I promise! My wife gets most of the credit for this, as she came up with the idea for a large hotel event she was managing … and I nabbed it for you!

You can use fat-free Greek yogurt regularly, but I recommend using 2% if you're going to make these for a party or friends. The little extra fat adds an indulgent rich creaminess.

Fruit Combos
Fruit combinations for the recipe below are endless! I came up with a few favorites, but the berries were too good to pass up this time of year!
Bananas & Kiwi
Purple Grapes & Apples
Apples & Strawberries
Mango & Pineapple


Serving Suggestion
Putting these out for display is a cinch. I filled a large bowl with some old uncooked rice and refrigerated it. The rice gets cold and helps keep the parfaits chilled. If you want to make these a few hours ahead of time, I recommend washing and using glass beads instead of rice so the rice grains won't stick to the cones.

Waffle Cone Fruit Parfaits Recipe

Serves 8

Ingredients
32 oz 2% or Non-Fat Greek Yogurt
8 Waffle Cones
2 cups Fresh Fruit, cut into small chunks

Directions
Spoon some fruit into the bottom of the waffle cone.
Add ½ cup yogurt.
Top with more fruit.

Serve immediately or chill for up to 3-5 hours.
Nutrient Analysis (using blueberries & raspberries)
Calories: 193 kcal, Protein: 13 g, Carbs: 28 g, Total Fat: 3 g
Sat Fat: 2 g, Cholesterol: 8 mg, Sodium: 73 mg, Fiber: 2 g
Photo Credit: Andrew Dole