If you need a new effortless go-to weeknight dinner, I have a great suggestion! Baked sweet potatoes topped with taco black beans and your favorite toppings. We're taking the best parts of tacos and putting them on top of a baked sweet potato – spiced black bean filling, cheese, avocado and a dollop of sour cream, if you like.
The magic of this meal is how silly easy it is. Bake a few taters, toss a can of black beans and spices in a sauce pan to warm up, then assemble. If you don't have time to bake a sweet potato, you can always do the microwave option. Prick the potatoes all over with a fork then microwave on high for 8 to 10 minutes or until tender, turning the potatoes once. Or, peel and slice the potato into thin chips, bake until crispy and enjoy these like nachos.
The toppings are really up to you. I like a generous sprinkle of cheese, hot sauce and avocado but anything goes. That's really the beauty of tacos isn't it? Most things work. If you like it on tacos, it will work in this recipe.
Taco Stuffed Sweet Potatoes
Ingredients
4 medium sweet potatoes
2 teaspoons olive oil
½ cup chopped onion
3 garlic cloves, minced
2 cups cooked black beans (drained and rinsed if using canned)
1 tablespoon tomato paste
½ teaspoon salt
1 teaspoon chili powder
½ teaspoon cumin
¼ teaspoon cayenne
½ lime, zest and juice
1 cup shredded cheddar cheese
1 avocado, thinly sliced
¼ cup chopped cilantro
salsa/sour cream, for topping
Directions
1. Preheat oven to 400°F. Prick potatoes a few times with a fork, until tender, about 45-70 minutes depending on the size of the potatoes (I usually check them around 45 minutes, then add more time as needed). Alternately, you can cook them in the microwave though I don't think the texture is the same.
When the potatoes have about 15 minutes left of cooking time, make the beans. Heat the olive oil over medium heat in a medium saucepan. Add the onion and garlic and cook until tender and translucent, about 5-7 minutes.
Add the spices, beans and tomato paste and cook until beans are warmed through. Stir in lime juice and zest. Season to taste with salt and pepper, if needed.
Remove potatoes from the oven, slice down the middle and mash a few times. Top with bean mixture, cheese, avocado, cilantro and salsa/sour cream, if using. Serve immediately.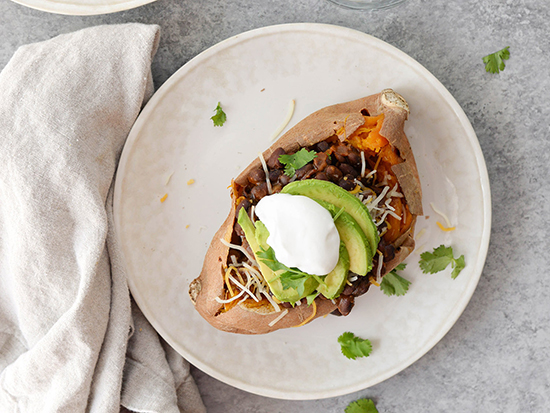 Nutrient Analysis
Per potato (serves 4): 512 calories, 19g fat, 9g saturated fat, 37mg cholesterol, 1403mg potassium, 472mg sodium, 67g carbohydrates, 17g fiber, 11g sugar, 0g added sugar, 21g protein
Photo Credit: Alex Caspero