Andrew Dole, RDN
Everyday Chef, Fruits & Veggies—More Matters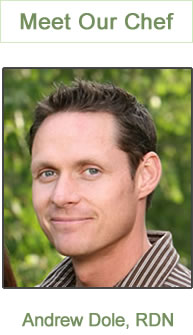 Looking for a rinse and go steamed vegetable recipe without all the specialty steamer equipment or inserts? I've got the perfect solution.
Pan Selection
We are going to use a sauté or sautoir pan with a lid for this recipe. What's the difference?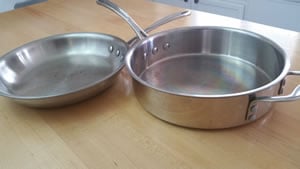 A sauté pan is designed to release steam with its short sides, which are slanted outward it.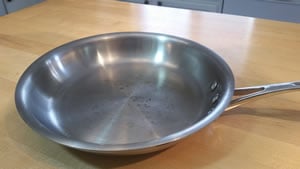 Sautoir's have high straight sides. This helps retain liquid or moisture inside the pan. A wider bottom than the sides are tall means liquid evaporates, but it just a little takes longer.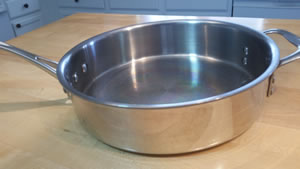 Why are we using these pans instead of a tall pot or sauce pot? This recipe uses just enough liquid to cook the vegetables and at the end we will want most of the water cooked off for a quick sauté.
Ingredients
Snow peas, 8 ounces, stemmed and rinsed
Grape Tomatoes, ½ pint, halved
Water ¼ cup
Extra Virgin Olive Oil (EVOO), 2 teaspoons
Salt and pepper to taste
Optional Garnishes
Italian Crushed Red Pepper, Flat Leaf Parsley
Asian Black Sesame Seeds, Water Chestnuts
Anywhere Crumbled Bacon, Julienned Red Pepper
I prefer grape tomatoes for this recipe, because they hold their shape well during cooking and provide a tangy, vibrant flavor for very little effort. Cherry or diced Roma tomatoes can be substituted.
Procedure
(Need help with prepping snow peas? See "How To Prep Snow Peas" at the end of "Procedure.")

1. Place ¼ cup of water and snow peas in pan and set burner to medium high.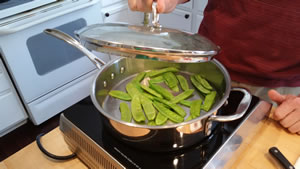 2. Cover immediately, steaming for 2 minutes.
3. Uncover, stir, and steam for an additional minute uncovered.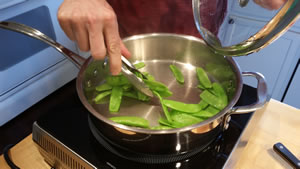 Add tomatoes. Stirring occasionally, cook peas and tomatoes for an additional minute.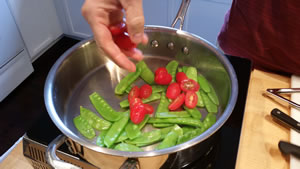 5. Remove from heat and drain remaining liquid.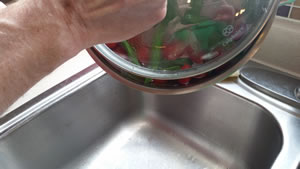 6. Add oil to snow peas and tomatoes in pan; toss to coat.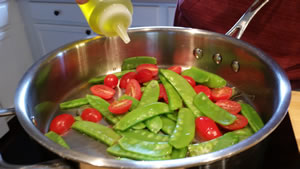 7. Return pan to heat and cook for an additional 30-40 seconds at medium high. Season lightly with salt and pepper.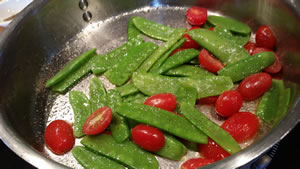 8. Remove from heat and serve.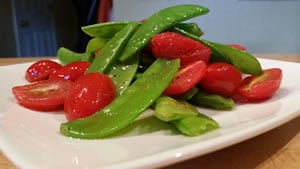 How To Prep Snow Peas
If you purchased snow peas that did not have the rib and stems already removed a little prep work is necessary.
Grab the end (stem) of the snow pea and pull back.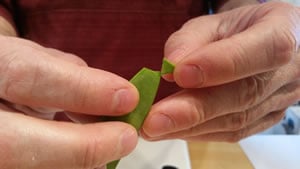 A tough, thin string will start to peel away from the pod. You can't cook this string away. It is edible, but makes for a chewy experience.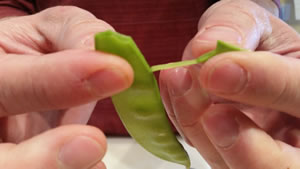 Do this for both ends of the pod.
Photo Credit: Andrew Dole