Andrew Dole, RDN, CEC
Everyday Chef, Fruits & Veggies—More Matters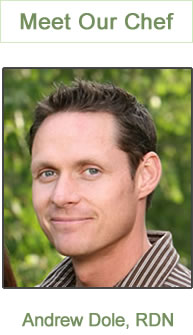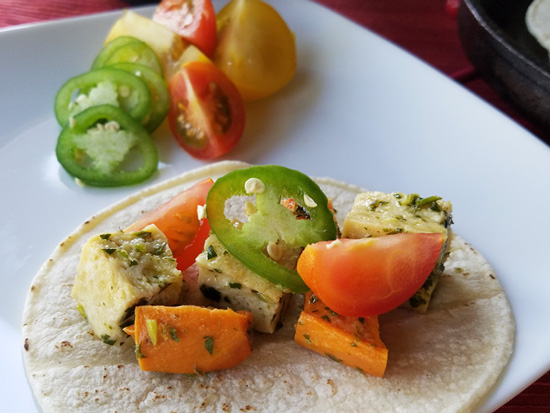 A lot of people don't like tofu, not because it tastes bad but because it doesn't taste like anything or has a strange texture. However, 99% of the time it isn't the fault of the tofu, but the cook! Here are some tips for making great tofu and a wham-bam-pow chimichurri taco recipe using tofu and sweet potatoes as main ingredients.

2 Secrets to Working with Tofu
Freeze it before cooking
Marinate after its been cooked, not before
Freezing tofu creates a meaty, firm, chewy texture. After buying tofu, immediately drain, cut into desired size and freeze. When frozen, remove from sheet tray and put into freezer bags to use later.

Tofu is a giant sponge, so marinating after it's been drained or before cooking seems like a good idea. In theory, the sponge should soak up all the marinade and be really yummy. Problem is, during cooking the tofu shrinks, a lot, and the marinade is squeezed out. This makes roasting very difficult because nothing will ever brown in the presence of water. The marinade that gets squeezed out into the tray during cooking keeps the tofu we, preventing it from browning.

It's best to grill or roast the tofu first then immediately toss into a marinade while warm. The tofu will soak up the fresh, bold flavors. This also helps to keep it moist and juicy. Silken tofu is the exception – marinate before cooking.

The only tofu type I recommend marinating before cooking is silken tofu.

Types of Tofu
Silken – creamy soft texture, not spongy, bakes well, best in large shapes or left whole.
Firm – spongy, easier to work with, good for roasting, best texture after cooking
Extra Firm – very sturdy, holds up well to grilling, bakes/roasts ok but a little chewy
Chimichurri Sauce Recipe
Serves 10 – Serving size 1 tbsp.

Ingredients
1 cup – Cilantro, Fresh
1 cup – Parsley, Italian Flat Leaf
1/2 cup – Extra Virgin Olive Oil
2 tbsp – Red Wine Vinegar
1 fruit – Lime, Raw
2 tbsp – Oregano, Fresh
1 tsp – Crushed Red Pepper
1/2 tsp – Coarse Kosher Salt

Directions
Place everything into food processor. (Squeeze lime for juice – do not add whole lime.)
Pulse until parsley and cilantro are rough chopped and a course thick mixture is created.

Blender is not recommended. A food processor is the best tool for this job to avoid over-blending.
Chimichurri is not meant to be smooth. It should contain rough distinguishable bits of herb.





Nutrient Analysis:
Calories: 101.54 kcal, Protein: 0.26 g, Carbs: 1 g, Total Fat: 11.27 g
Sat Fat: 2 g, Cholesterol: 0.00 mg, Sodium: 100 mg, Fiber: .43 g

Sweet Potato & Tofu Chimichurri Tacos Recipe
Serves 8

Ingredients
2 Sweet Potatoes – Peeled, ½" Cubes
1 lb – Firm Tofu – Drained, ½" Cubes
1/4 cup – California Golden Raisins
8 each – Guerrero Taqueria Mini Corn Tortillas
1/2 tbsp – Onion Powder
1/2 tbsp – Garlic Powder
1/2 tsp – Cumin, Ground
1 tsp – Canola Oil
1/2 tsp – Coarse Kosher Salt

Directions
Recommended tofu preparation, but not necessary.

1. Drain and cut tofu into 1/2? cubes. Spread onto lined sheet tray, cover with plastic, and freeze overnight.
2. When ready to use, pull tofu from freezer, place into colander and run hot water over tofu until defrosted.
3. Remove from water and lightly press down with hand to squeeze out extra liquid. Do this 2-3 times, gently. Not all water will be removed.





Tip: Freezing tofu creates a meaty, firm, chewy texture. As mentioned above, after buying tofu immediately drain, cut into desired size and freeze.

Set oven to 450°F.

1. In large bowl, combine sweet potato, oil, onion powder, garlic powder, and salt. Toss to coat potatoes very well.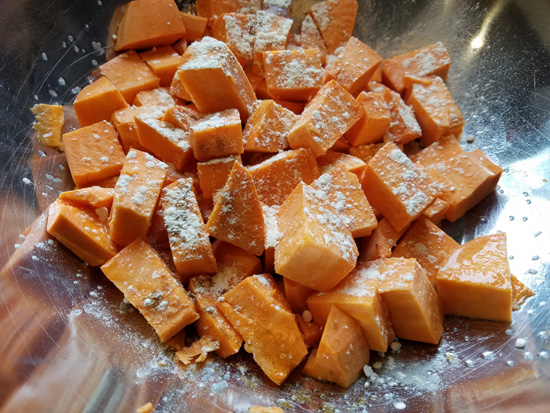 2. Spread out onto lined sheet tray. Roast in oven until tender and caramelized. Toss 1-2 times.
3. In same bowl, quickly add tofu and toss with spices left in bowl from potatoes. Spread onto separate lined sheet tray rubbed very lightly with oil. Roast in oven with sweet potatoes until starting to brown. Toss 1-2 times.

Notes
If sheet tray is large enough, you can roast tofu and potatoes combined on one tray. If not use two small trays.
If using the frozen tofu method, be sure it's thawed and most liquid pressed out.
If using fresh tofu drain and cut.



4. When done – let sweet potatoes and tofu cool enough to place into a gallon freezer bag, but still warm.
5. Pour half of the chimichurri from the chimichurri recipe into bag.
6. Add roasted tofu, sweet potatoes, and raisins to bag with chimichurri. Toss to coat.





7. Warm the tortillas.

Serve immediately with warmed corn tortillas.
Garnish with avocado slices, guacamole, sour cream, more chimichurri, or all of it!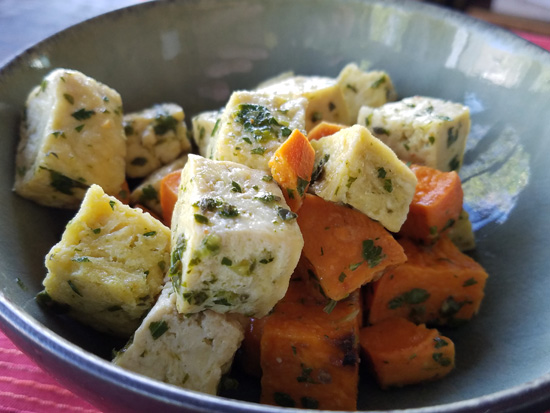 Refrigerate immediately if not serving right away.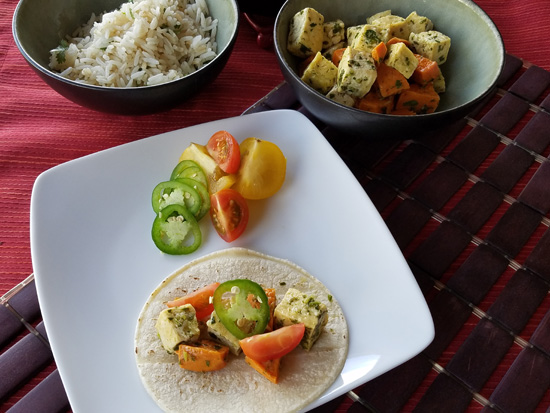 Nutrient Analysis
Calories: 178 kcal, Protein: 12 g, Carbs: 19 g, Total Fat: 6 g
Sat Fat: 0.38 g, Cholesterol: 0 mg, Sodium: 42 mg, Fiber: 4 g
Photo Credit: Andrew Dole