Andrew Dole, RDN, CEC
Everyday Chef, Fruits & Veggies—More Matters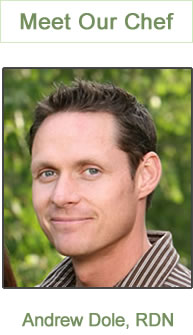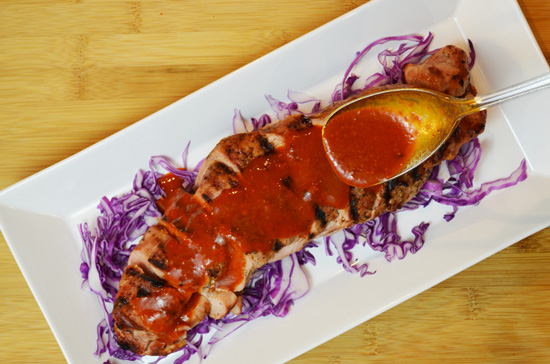 My stepfather and his mother were from Oaxaca, Mexico, meaning I grew up eating traditional Mexican foods – some of which were too hot for a little gringo boy and I needed to grow into them. One such recipe is a favorite childhood meal – red chile con carne. As I've gotten older I've reduced the amount of fatty meats (like pork shoulder) traditionally used in this type of recipe, but I started to miss the deep earthy smokiness of the red chile sauce. So after some tinkering I came up with a stand-alone red chile sauce recipe that lets me enjoy the great flavors of dried chiles with leaner cuts of meat or vegetarian enchiladas!

Chiles are the dried version of peppers. They come in a variety of flavors, and like coffee beans or teas each dried chile has a unique personality. For example, the common California chile we will use in this recipe is a dried Anaheim pepper common at most grocers. In fact, when cooked and canned the Anaheim pepper is most notably called "green chile" and is the foundation to New Mexico- and Colorado- based green chile recipes.

The raw Anaheim pepper has a grassy, sweet flavor and is mild in heat. When it's dried, the Anaheim becomes a California red chile (pasado chile or chile seco del norte). It is the mildest dried chile of them all. Lacking the heat of a New Mexico red chile and other dried chile types, the California red offers up a meaty, smoky, chile flavor without all the fire!

Using dried chiles can be intimidating at first, but they aren't anything to fear. They are like riding a bike – if you can ride one bike you can ride them all. Learn to use one dried chile and you're ready cook with them all!

Lastly, there are lots of little steps to the recipe, but none of them are hard or time consuming. For clarity and easy learning, I broke many of the steps into smaller simpler ones.

Red Chile Sauce Recipe
Serves 10

Ingredients
8 ct – California Whole Chiles
1 cup – Stock, Vegetable, unsalted
2 clove – Garlic, crushed
1/4 cup – Yellow Onion, diced
1 tsp – Kosher Salt
2 Roma/Plum Tomato, rough chopped
1 tsp – Mexican Oregano, dried
1 tsp – Cumin, ground
1 tbsp – Adobo chile in sauce
1.5 tbsp – Corn Starch
1 tsp – Canola oil
1 Lime, fresh

Directions
Add chiles to a medium sized sauce pot. Cover with water and cover with lid. Chiles will float, just stir occasionally.

Bring chiles and water to a boil. Reduce and simmer covered for five minutes. Let stand until chiles are very tender.





Tear open chiles to remove seeds and stems. Some seeds will remain. Dip back into chile liquid to remove seeds stuck to flesh.





Drain peppers, reserving 1 cup of strained chili liquid.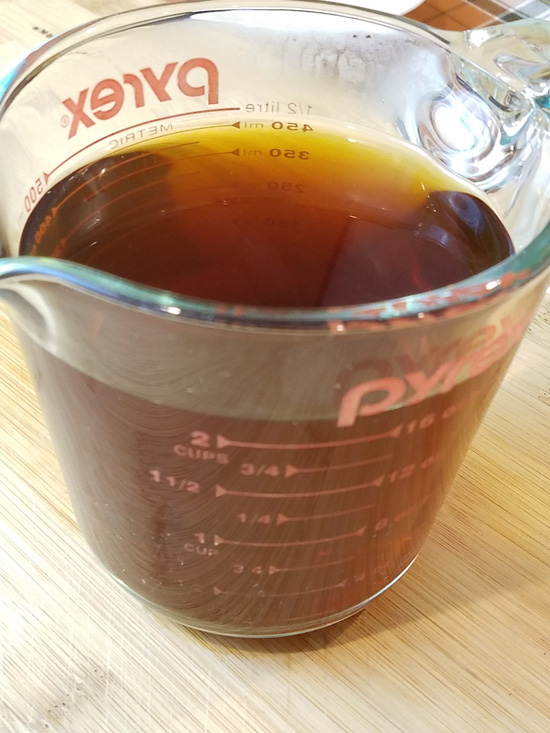 In same sauce pot – add 1 tsp oil. Bring to low-medium heat.
Add onion and crushed garlic. Stir constantly until mixture becomes aromatic and softened.

Add spices to garlic and onions stirring to mix well. Toast spices until aromatic.
Add tomatoes and sauté briefly – just until tomatoes release some liquid and soften.





In blender combine steeped drained peppers and sauté spice mixture, stock, and adobo pepper with sauce.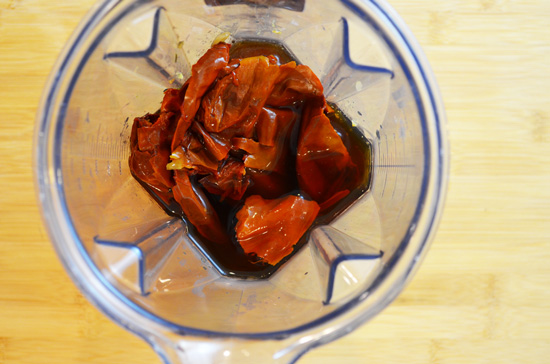 Blend on high until smooth.

Pour into sauce pot and simmer 15-20 minutes.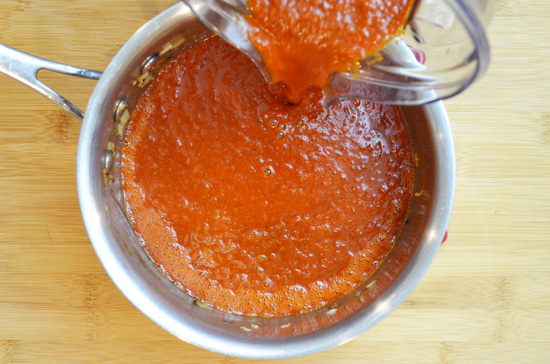 Thicken with cornstarch slurry – 1.5 Tbsp cornstarch mixed with enough water to create a heavy cream like consistency. Mix well. Stream slowly into simmering chile sauce, whisking constantly.

Sauce will thicken. Add salt to taste.

Finish with a squeeze of fresh lime juice.

Chill overnight. Flavors for sauce are best when allowed to bloom and develop.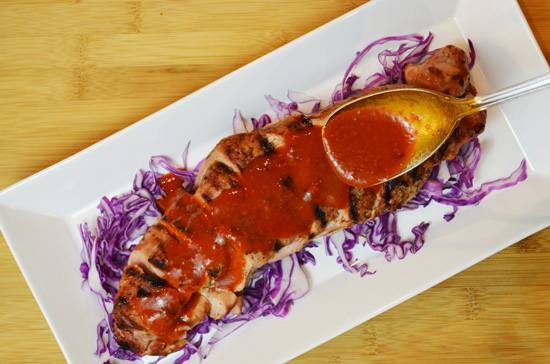 Nutrient Analysis
Calories: 26.36, Protein: 0.74 g, Carbs: 4.11 g, Total Fat: 0.92 g
Sat Fat: 0.04 g, Sodium: 170.08 mg, Fiber: 0.64 g
Photo Credit: Andrew Dole