Andrew Dole, RDN, CEC
Everyday Chef, Fruits & Veggies—More Matters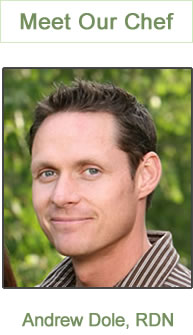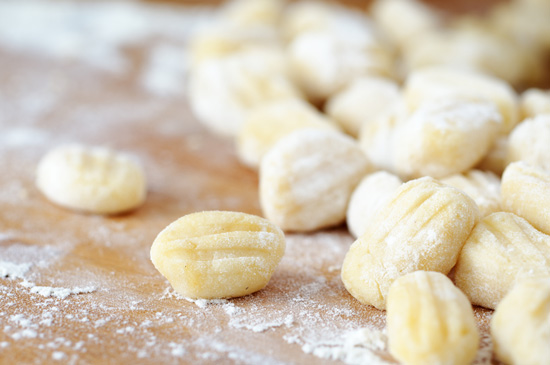 Gnocchi is one of those recipes that you make a lot if, sort of like tamales. Making gnocchi isn't hard work, but getting them right takes a few steps and a little time.

I've gone into lots of detail in the directions (below the video) but there really isn't that much to do, so don't get overwhelmed. This is more of a teaching recipe to make sure all the little steps are covered.

4 Key Steps to Good Gnocchi
Use a food mill or ricer
Bake the russet potatoes
Don't let the potatoes cool too much
Don't knead the dough like bread
Why have a ricer or food mill? Because it's like an ice-cream maker – when you need one there just isn't a better solution. I'm not one for frivolous extra gadgets that take up space, but this is one I recommend. Besides, they make the best mashed potatoes ever!

If you don't have a food mill or ricer it's no problem. A mixer and whip attachment will get the job done.



Baked Spinach Potato Gnocchi Recipe
18 Servings (2 batches)

Ingredients
6 lb – Potato, Russet, Baked
1 1/2 cup – All Purpose Flour
4 large – Egg Yolk
3 oz – Cheese, Fontina
2 oz – Cheese, Parmesan
2 cup – 1% Milk
2 tbsp – All Purpose Flour
2 tbsp – Butter, Regular, Unsalted
1/4 tsp – Nutmeg, Ground
1 tsp – Onion Powder
1 tsp – Garlic Powder
0.25 tsp – Kosher Salt
5 oz – Chicken Breast, Cooked, Shredded
1 cup – Chopped Spinach, Frozen

Directions
Potatoes
Heat oven to 400°F.

Bake potatoes until tender (fork easily goes through the potato and passes through center).
Time depends on size of potatoes – approximately 1 hour
While potatoes are baking, prepare the cheese sauce
Cheese Sauce
In medium sauce pot over medium-low heat, add butter and 2 Tbsp flour – whisk briskly until well mixed.
Cook roux for 1-2 minutes, stirring to prevent bottom from burning.
Remove from heat briefly and whisk in milk slowly at first. Whisk well, return to heat, bring sauce to simmer and cook for 3-5 minutes until slightly thickened.
Add Fontina cheese – whisk until melted and well blended.
Whisk in onion powder, garlic powder, salt.
Taste – adjust seasoning (remember Parmesan added at very end is salty).
Remove from heat – set a side.
Gnocchi
The Dough
When potatoes are done, scoop them out while hot into a food mill or mixer with whip attachment.

A food mill results in a lighter fluffier potato
If using mixer with whip, be sure to whip on med/high to break up the potato until smooth
Let potato rest and steam out for 3-5 minutes

Beat egg yolks.

Spread riced potato out onto work surface with dough scraper or spatula
Pour egg over potato
Fold and cut egg yolk onto potato using scraper/spatula until all of the yolk is mixed in

Using 1 cup of flour …

Spread out potato mixture into even layer and sift 1/2 cup of flour on potatoes
Fold and cut flour into potato using scraper/spatula, forming a dough
Work the flour in completely
Repeat with another 1/2 cup of flour

Gently flatten out dough.

Sift remaining flour (1/2 cup) over dough, gently fold and press flour in but don't knead
Dough should come together

Using scrape or spatula, form dough into round shape and cut into 4 portions. Scrape work surface clean and lightly flour.
On lightly floured surface, take one piece of dough and form a log.

Roll into a 1/2″ thick snake
Cut snake into 1″ segments using scraper/spatula
Reserve gnocchi on lightly floured sheet tray
Finish remainder of dough
Cooking the Gnocchi
Bring large pot of salted water to a boil. Add gnocchi to boiling water in small batches, swirling water to prevent sticking. Cook until gnocchi floats plus an additional 60 seconds.
Taste – should not taste like flour or raw potato.
Using slotted spoon, remove gnocchi from water and place on sheet tray lined with lightly oiled parchment.
Cook remaining gnocchi.
Cool gnocchi.
NOTE: I recommend freezing (in a freezer bag) the gnocchi not used in baked recipe.

Pulling It All Together
Assemble in layers in a baking dish.
Pour 1/3 of cheese sauce on bottom of dish.
Add all gnocchi in an even layer – whatever you don't use you can freeze.
Spread chicken on top.
Add spinach.
Add remaining sauce.
Top with Parmesan cheese.
Bake at 350°F until cheese is browned and sauce is bubbly.
Serve with a salad or grilled vegetables!
Nutrient Analysis:
Per Serving
Calories: 293.70 kcal, Protein: 12.87 g, Carbs: 47.44 g, Total Fat: 5.37 g
Sat Fat: 3.12 g, Cholesterol: 64.69 mg, Sodium: 160.39 mg, Fiber: 4.04 g
Photo Credit: Andrew Dole