Andrew Dole, RDN, CEC
Everyday Chef, Fruits & Veggies—More Matters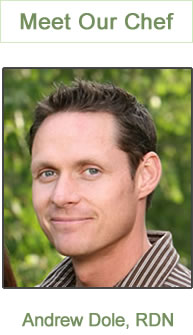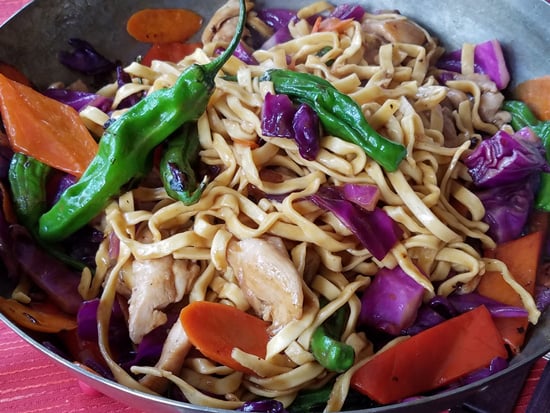 What are ChiPan street noodles? Like most recipe creations, this one came about because I couldn't find the exact noodle I needed. My original goal was to make yakisoba for a private chef client. It's a dish I learned to make while working at a private Japanese university. Vegetables, Bull Dog sauce and of course, a particular Japanese noodle.

My local Asian grocery store has aisles dedicated to many different Asian cuisines such as Chinese, Korean, Japanese, and Thai. I fully expected to find the distinctly thin and curly yakisoba noodles I needed. Long story short – they didn't have any, so I needed an alternative. I decided on fresh, flat, Chinese stir-fry noodles.

Merging Chinese noodles with a popular Japanese sauce and some hearty vegetables turned out to be fantabulous! My client and family loved the noodles. I think you will too.

Moving on to the recipe I want to start with … please don't get overwhelmed by the size of the instructions list. This isn't some fancy, complicated, recipe using techniques, equipment and ingredients you can't possibly find. I added a lot of explanation behind certain steps.

The only must-find ingredient is Bull Dog sauce. There really is no substitution for this. Any Asian market will have it and it's much easier than a traditional stir-fry noodle sauce. Trust me. But … I have provided an alternative if you can't find it.

Here's a substitution list …

INGREDIENT
SUBSTITUTION
Chicken
Shishito peppers
Sambal Olek
Noodles
Toasted Sesame Oil
Firm tofu, any meat, no meat
Jalapeno or mini sweet peppers
Sriracha
Any long noodle – spaghetti, fettuccine, stir fry noodle, rice noodles, chuka-men, yakisoba
Canola oil, coconut oil, avocado oil, peanut oil (avoid olive oil)
ChiPan Street Noodles Recipe

Serves 8

Ingredients
2 lb boneless, skinless chicken thighs, ¼" strips
¼ head red cabbage, 2" triangle and square shapes
3 large carrot, &?#8539;" oval cut
1 large red bell pepper, 1" triangle and square shapes
15 peppers, shishito
1 oz chili Paste
1 lb stir-fried noodles, fresh
½ cup vegetable & fruit sauce
¼ cup noodle cooking water
1 Tbsp oil, toasted sesame

Stir Fry Noodle Sauce (if you can't find Bull Dog Sauce)
¼ cup soy sauce, reduced-sodium
¼ cup water
2 cloves, garlic, minced
2 Tbsp browns sugar
1 Tbsp sambal oelek
1 Tbsp oyster sauce
1 Tbsp freshly grated ginger
1 tsp sesame oil
1 Tbsp balsamic vinegar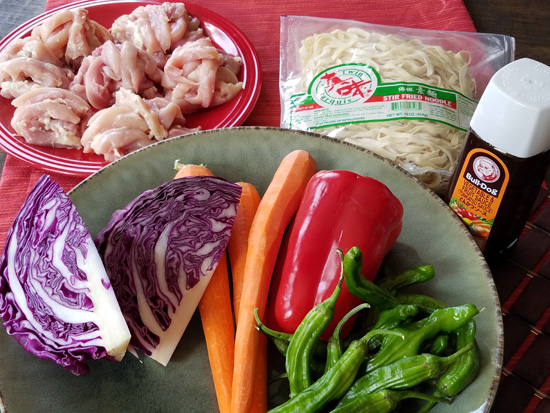 Directions
1. Put large pot of water on to boil for noodles.

If you're using fresh store-bought Asian noodles of any kind, do not salt the water. These noodles as well as the sauces used have plenty of salt. However, if you are using a dried wheat, egg or rice noodle, salt the cooking water lightly. The water should taste of light saltiness on the tongue.

If you're using dried noodles, cook them to tender but slightly under done. Drain, run under cold water, and then toss lightly with oil. Set aside. (Reserve 1/2 cup of pasta cooking liquid for later.) The starch from the noodles will help thicken the noodles sauce in the last steps.

2. Heat large sauté pan or wok to med high. Add shishito peppers to dry pan (no oil or fat). Blister/char sides of peppers turning occasionally. Remove and reserve.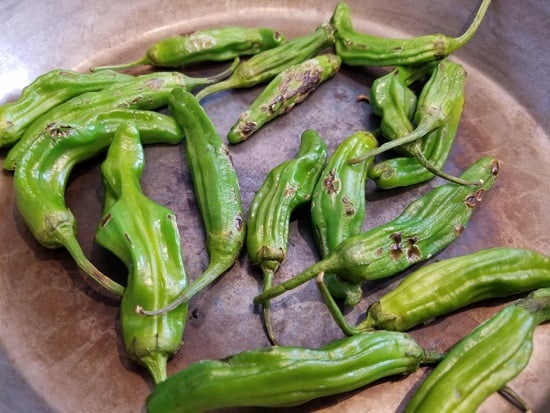 3. Remove pan from heat and cool for 1 minute. Return pan and adjust heat to medium. Add ½ Tbsp of toasted sesame oil. Oil should shimmer and slightly smoke. Brown and reserve chicken in batches. (The goal is to brown the chicken, not fully cook it.) If necessary, add the other 1 tsp of sesame oil to pan before starting second or third batch.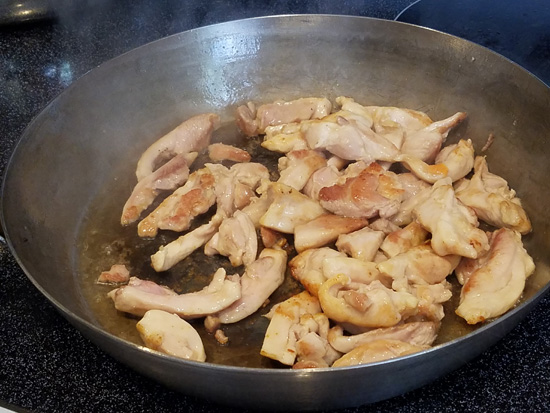 4. In the same pan – return to med high heat and add 1 tsp sesame oil. Brown carrots for 1-2 minutes tossing occasionally.

5. Add red peppers. Cook 1 minute, tossing 2-3 times. Add cabbage cook 1-2 minutes, tossing 2-3.

Tip: Tossing occasionally removes the pan from heat source and prevents it from getting too hot and burning. It also keeps the food jumping around and cooking on all sides preventing burning and sticking.





6. Remove pan from heat. Add shishito peppers, chicken and chicken juices to vegetables. Set aside.

7. If using fresh noodles cook them now according to package directions. Typically, 3-5 minutes in boiling water. Cook until tender but just firm enough to cook with vegetables without getting mushy.

8. Pull fresh noodles from water and add directly to chicken and vegetable mixture. Or use precooked noodles from earlier. Return pan to heat using HIGH heat and toss noodles with vegetables.





9. Keep noodles and vegetables moving (bottom of pan is getting very hot). Pour Bull Dog sauce and ½ reserved noodle water over stir-fry mixture. Keep tossing and mixing trying to coat the stir-fry in the saucy liquid.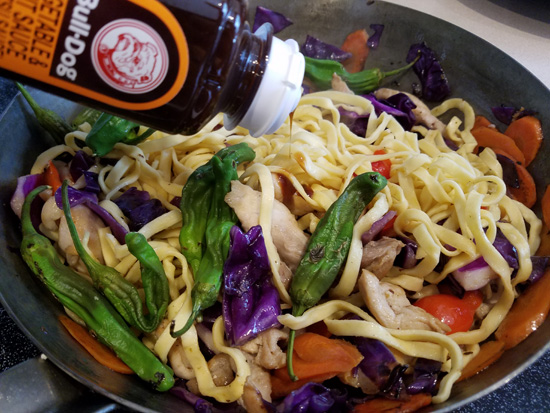 10. Continue until sauce is desired thickness – adhering to noodles, glossy, and coats all of the stir-fry well.

11. Remove and serve with Sambal Olek chili paste and additional Bull Dog sauce if desired.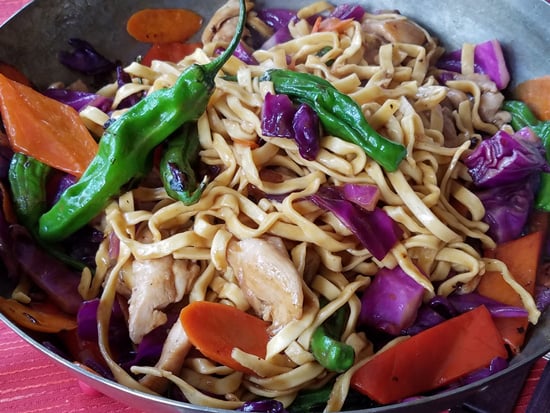 Nutrient Analysis:
Calories: 371 kcal, Protein:25 g, Carbs: 43g, Total Fat: 11 g
Sat Fat: 2.30 g, Cholesterol: 86 mg, Sodium: 893 mg, Fiber: 3g
Photo Credit: Andrew Dole