The Everyday Chef: Caribbean Braised Shredded Beef for Stews, Tacos, Bok Choy & More
This recipe was made to use up leftover vegetables in the crisper, be flexible for several meals, and use an inexpensive cut of meat. I didn't want to spend lots of money, but I also didn't want to eat the exact same thing for a week.
Don't laugh when you see the prep pictures. That's really all the vegetable ingredients I had saved from a prior week of cooking. Some are shriveled a little, but there was no need to toss them out. That's the beauty of vegetables – tons of flavor and they don't have be expensive or picture perfect to be amazing.
Based on a traditional Latin shredded beef recipe this new "nueva" version adds soy sauce and ginger root to the flavor profile making it great for tacos and guacamole one day, while pairing well with a small cup of jasmine rice and steamed bok choy the next.
Remember the goal is to use up vegetables lingering in the fridge. Any type of tomato, onion, or pepper can be substituted. You could even use chicken stock and chicken instead of beef. You'll also notice the knife cuts are rough chopped so don't spend a lot of time with them. This is meant to be an easy prep and low-maintenance cooking dish.
Caribbean Braised Shredded Beef (Ropa Vieja Neuva) Recipe
Serves 10-12
Ingredients
4 lb – Beef Top/Bottom Round Roast, cut 2-3" cubes
4 plum – Tomato, rough chopped
¼ cup – Ginger Root, crushed
6 cloves – Garlic Cloves, peeled, crushed
1 pepper – Jalapeno, rough chopped
¼ cup – Shallot, minced
1 large – Bell Pepper, seeded, rough chopped
1 tsp – Coarse Kosher Salt
1 tbsp – Soy Sauce
2 tbsp – Canola Oil
0.50 oz – Annatto Powder
1 tbsp – Onion Powder
8 cups – Beef Stock Unsalted
Directions
Cube meat into large 2-3-inch cubes.
In large stock pot, Dutch oven, or pressure cooker, add 1 tbsp oil over medium-high heat. When oil starts to shimmer brown meat in small batches – reduce heat if necessary to avoid burning the bottom of the pot. Reserve browned meat.
In the same pot used to brown meat, add 1/2 tbsp oil if needed and adjust to medium heat. Add tomato, ginger, garlic, jalapeno, shallot, bell pepper – sauté until softened, aromatic, and tomato juice is just about gone. Be sure to scrape bottom and stir often.
Add onion powder, annatto, and soy sauce. Stir to coat.
Add browned meat and stock. Cover, bring to simmer and cook until meat is tender, 4-6 hours.
**Pressure cooker – cover and cook for 35 minutes. Remove from heat and naturally depressurize (no cold water method or opening the steam valve).**
Remove beef, shred and reserve. Strain liquid, reserving vegetables. Remove crushed ginger. Combine shredded meat and strained vegetables.
Reduce liquid by 1/2 and pour over meat. Serve or cool and refrigerate.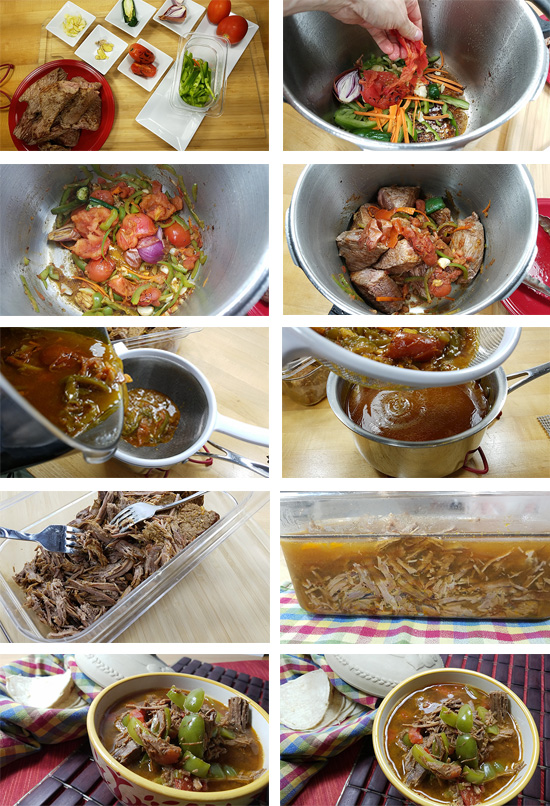 Nutrient Analysis
Calories: 225 kcal, Protein: 38 g, Carbs: 4 g, Total Fat: 6 g
Sat Fat: 1.7 g, Cholesterol: 93.7 mg, Sodium: 364 mg, Fiber: 0.75 g
Photo Credit: Andrew Dole