July 2, 2013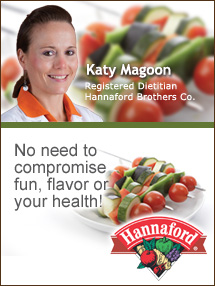 The summer months are a time when friends and family get together and bond over food, whether it is a day at the beach, a picnic, or a backyard barbecue. Affording friends and family with food and fare that both entices the tastes buds as well as nourishes the body is always my top priority as a registered dietitian. No need to compromise fun and flavor or your health!

Light Desserts
Try your hand at an easy fruit-based dessert. Opt for in-season fruits and work them into your menu for an event or get-together. A quick and easy idea that is sure to appease even the pickiest of pallets – fresh strawberries dunked in fat-free vanilla Greek yogurt then rolled in crushed whole grain cereal of your choice. Make them ahead and keep refrigerated, or put them together as desired.

Looking to add an additional element of flavor to your spread? Experiment with herbs and spices! Fruit pairs wonderfully with many herbs and spices including cinnamon, mint and ginger. Toss blueberries or grapes with grated ginger then top with a dollop of vanilla Greek yogurt and finish with a sprinkling of cinnamon, nutmeg and brown sugar.

Picnic Kabobs
Working in additional servings of fruits and vegetables into any summer event or get-together will ultimately offer a huge nutritional pay off to all involved. For a portable picnic idea, opt for fruit and vegetable kabobs loaded with a variety of other fixings, such as cheese, turkey, or chicken breast. Accompany the kabob with a fun low-fat dip for a little something extra.

Recipe
Quick Kabobs
Prep Time: 5 minutes
Serves 4

Ingredients

½ lb Turkey Breast, cubed
½ lb Sharp Cheddar Cheese, cubed
1 cup Grapes

Directions

Thread turkey, cheese, grapes, and apricots onto wooden skewer.
Serve and savor!
Katy Magoon, RD, LD
Registered Dietitian
Hannaford Brothers Company
Fruit & Vegetable Recipes
Video Center: Selection, Storage, and Preparation of Fruits & Vegetables.