October is Vegetarian Awareness Month so I thought it would be an ideal time to explore the different types of vegetarian diets, their benefits and how meatless meals can be incorporated into your regular meal schedule.
Many folks think going vegetarian is simply omitting meat from your meals.  Actually, it's not that simple as there are different levels of vegetarianism.  All vegetarians eat fruit, vegetables, grains, dried beans and peas, nuts and seeds.  What further distinguishes them is the absence of other animal products.
Lacto-ovo-vegetarian: This diet includes dairy products (milk, yogurt, cheese, etc.) and eggs in it.
Lacto-vegetarian: This diet includes dairy products, but no eggs in it.
Ovo-vegetarian: This diet includes eggs, but no dairy products in it.
Pesci-vegetarian: This diet includes fish.
Semi-vegetarian: This diet includes both fish and poultry.
Vegan: This is the most retrictive diet and only includes food from plant sources.  No eggs, dairy products or honey are allowed.
While you may view a vegetarian diet as more restrictive than what you're used to, there are many benefits that these diets can provide.  The key is ensuring that you adhere to a well planned diet that incorporates a variety of fruit, vegetables and grains that will provide a variety of valuable nutrients your body needs.  The Academy of Nutrition and Dietetics have stated that a properly planned vegetarian diet is "healthful, nutritionally adequate, and provides health benefits in the prevention and treatment of certain diseases."  The reason for this is that vegetarian diets offer lower levels of saturated fats, cholesterol and have higher levels of fiber, along with important antioxidants like vitamins C, E and phytochemicals that come from fruit and vegetables.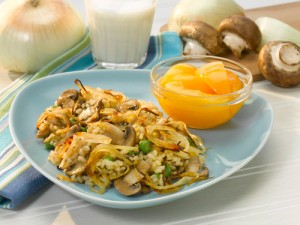 I don't expect you to run right out and turn into a vegetarian, but how about a meatless meal once a week?  The new trend toward Meatless Monday is a great way to start.  In fact, here's a great meatless entree idea from Fruits & Veggies–More Matters–Caramelized Mushroom and Onion Risotto.  It's delicious and it's easy enough to prepare on a busy weeknight.  Start experimenting with meatless recipes like this and try to get your family eating a meatless entree 2 or 3 nights a week.  Not only will you be eating healthier, I'll bet you'll see your grocery bill shrink as well!  If you have any meatless entree ideas, please share them with us via the comment section below.
See all posts