It's the time of year when young adults are getting ready to move into their college dorms for the upcoming fall semester.  For those of us who have gone through that initial experience of leaving home the first time, we're familiar with the term the "freshman fifteen."  It refers to the unforunate weight gain many college freshmen put on their first year from having a less-than-healthy diet.  Thankfully, with a little common sense and some smart nutrition choices, you can avoid this altogether.
Last year, the USDA developed a MyCampus section on their ChooseMyPlate website.  The section provides a variety of helpful information including tips for how to stay fit while on campus, how to select healthy options while eating in the dining hall, what kinds of healthy foods to pack in your dorm's mini fridge (think low-fat dairy and lots of fruit and veggies!) and provides a recipe section of quick, easy meals to prepare.  A few of these recipes featured are provided by Fruits & Veggies–More Matters, who partners with the USDA to promote MyPlate and making half your plate fruit and vegetables.  I thought I'd select two that are ideal for college students to prepare as they require no cooking and can be made in minutes.
European Salad with Chicken is simple since it uses pre-cut salad greens and cooked chicken purchased at the grocery store.  Add sliced bell pepper and cherry tomatoes to your salad, plus a low-fat vinaigrette dressing and you're finished!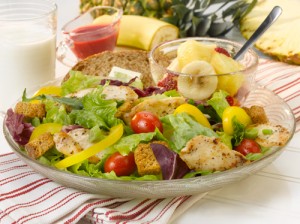 Late night snacks can be one of the biggest diet dangers of college life.  So, before you reach for the phone to order a pizza or devour a bag of chips, try this healthy option.  Celery Stuffed with Apricot Blue Cheese Spread tastes delicious, yet is still low in fat and is filled with dried fruit and nuts.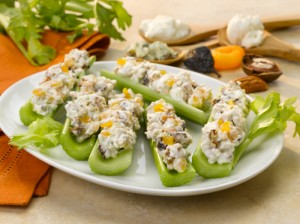 A few of my own tips from when I was young, on my own for the first time and living on a fixed budget, yet still wanting to eat healthfully are:
Defrosted mixed frozen veggies are a great option to add extra fiber and nutrition to noodle soups or eggs. Plus, they are very budget-friendly!
Limit the alcohol consumption–there is no nutritional value, yet lots of calories.
When grocery shopping look for in-season produce, they will be at lower prices and the height of flavor.
Canned beans make a great protein substitute for meat and at a fraction of the cost (think vegetarian chili!), they are also higher in fiber and no fat!
It is possible to leave home and not end up packing on the pounds–just think about what you're eating before you eat it.  Not only will you save yourself from gaining the weight, you'll have a lot more energy to do the things you enjoy.
See all posts