Asparagus is one of the most popular spring veggies.  April and May, in particular, you'll find them at their peak of flavor.  May happens to be National Asparagus Month, so take advantage of getting them at bargain prices while they're in season.  Along with its great taste, asparagus makes for a healthy addition to your menu.  It's a good source of vitamin C, high in folate, and a good source of vitamin A.  And, if you're watching your weight, asparagus is your friend.  This veggie is fat free, sodium free, cholesterol free, and it's low in calories.  In fact, one serving of asparagus (5 spears) has only 20 calories!
You can prepare this veggie a number of ways …grilled, roasted, and steamed.  Fruits & Veggies–More Matters has their Top 10 Ways To Enjoy Asparagus, which include adding them to salads and pastas.  I've collected a few recipes that highlight this vegetable's delicious flavor.  Asparagus, Tomato, and Feta Salad with Balsamic Vinaigrette combines fresh asparagus, grape tomatoes, chopped walnuts, and feta cheese.  A dressing made from balsamic vinegar, olive oil, Dijon mustard, honey, minced garlic, salt, and pepper is drizzled on top.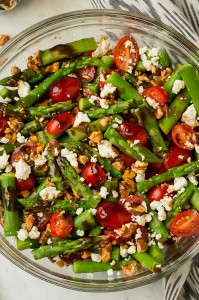 Courtesy of Cooking Classy
Creamy Asparagus Risotto  can be a side dish or meatless main meal.  Long grain white rice, vegetable broth, fresh asparagus, diced onion, crushed garlic, olive oil, Parmesan cheese, half and half, butter, fresh parsley, fresh basil, salt, and pepper are the ingredients you'll need for this one pot dish.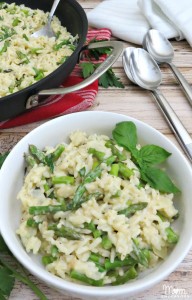 Courtesy of Mom Endeavors
A simple, but incredible way to enjoy asparagus is Panko Parmesan Crusted Asparagus.  The spears are first dipped into a mixture of egg, olive oil, Dijon mustard, salt, garlic powder, and pepper.  Then roll them in a Parmesan cheese and panko breadcrumb mix.  Spray each spear with a thin coat of olive oil and broil for 8 minutes.  Squeeze with fresh lemon juice and serve.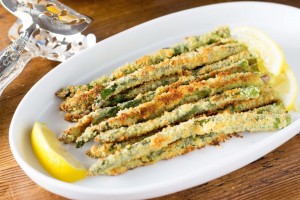 Courtesy of Queen of My Kitchen
Next week I'm back with some delicious empanada recipes.
See all posts