"Salad" sandwiches are a lunch favorite.  Tuna, chicken or egg salad–they appear on cafeteria and diner menus and we enjoy them from a young age.  And, while the traditional versions of these longtime favorites are very tasty, they are usually high in fat and lacking in fruits and vegetables.  Thankfully, this doesn't have to be the case and what's even better is that you can update the old recipe, reduce the fat content, add more fiber, vitamins and make it even more delicious!
Let's start with tuna salad.  The basic recipe typically calls for tuna, mayonnaise, chopped celery and maybe some minced onion.  Now take a look at this Tuna Apple Salad Sandwich recipe.  It uses a low-fat yogurt, chopped apple, parsley, raisins and chopped walnuts in the recipe, which adds additional nutrients and fiber while reducing the fat content.  The additional ingredients also boosts the salad's flavor.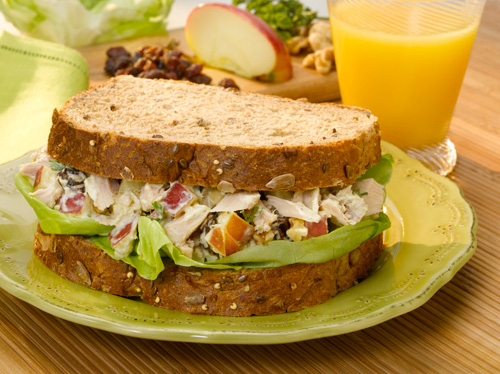 A traditional chicken salad recipe calls for chopped chicken, mayonnaise and chopped celery.  Honey Chicken Salad w/Grapes & Feta omits the mayonnaise completely and instead creates a dressing using honey, lemon and vinegar.  Green onions and feta add flavor, as do the sweetness of the grapes.  Wheat berries add an extra crunch and texture to the salad.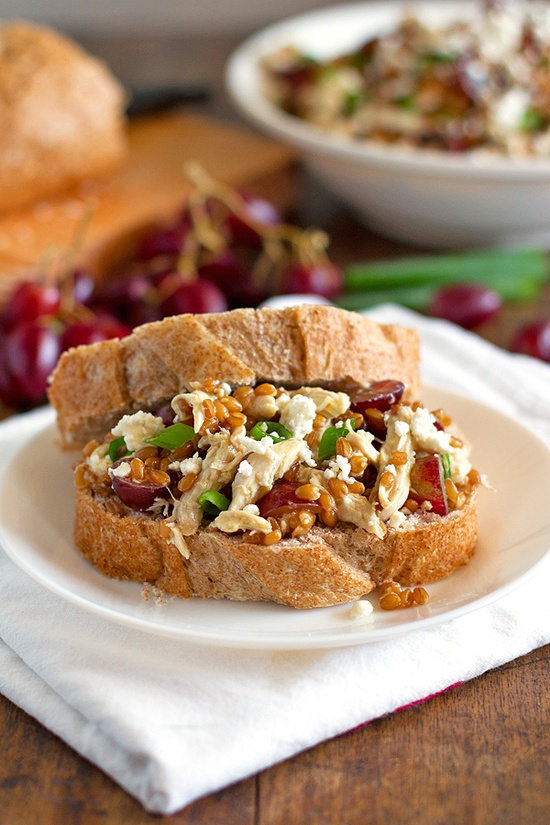 When working with egg salad you've got to be careful not to overpower the flavor.  One fruit that perfectly compliments egg salad is the avocado.  Plus, avocados are a great substitution for mayonnaise–they mimic the creaminess, but add a heart healthy fat.  This recipe for Avocado Egg Salad even discards the egg yolks, which reduces the fat content even more.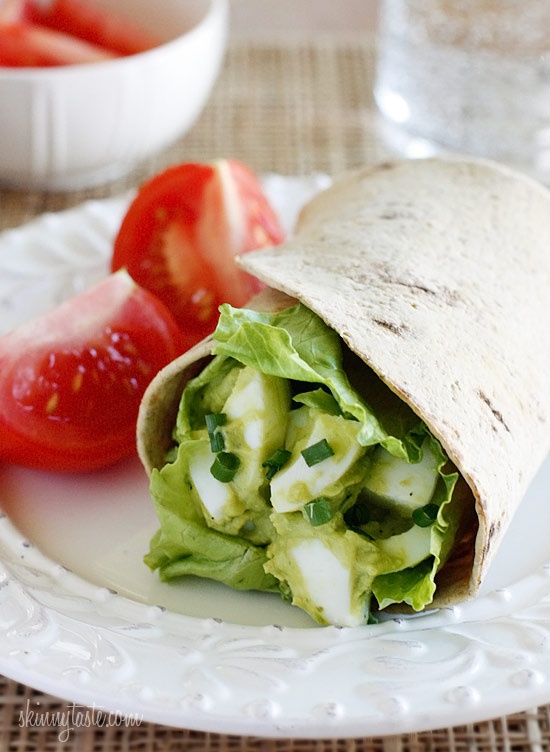 It's really about tailoring recipes to your tastes.  I've experimented with things that I enjoy and here are  more ideas you might like:
Add sundried tomatoes and capers to tuna salad w/reduced fat mayonnaise or low-fat yogurt as the base
Add currants, almonds and sliced grapes to chicken salad w/low-fat yogurt as the base
Add citrus fruits (Mandarin oranges, grapefruit) to chicken salad and make a honey/lime dressing
Try putting your favorite salad into a hollowed out fresh tomato as a serving idea–this is especially good during the summer months when tomatoes are at their peak
See all posts