There's nothing better than an outdoor cookout or picnic to celebrate the warm and sunny days of summer. But in the age of COVID, entertaining has become a new kind of adventure. To reduce the spread of the virus, our new normal dictates that we distance ourselves from others and take precautions like hand washing and wearing masks. At cookouts and picnics, something as "normal" as a platter piled high with veggies and dip or a big bowl of fruit salad with a single serving utensil (queue the Jaw's theme music) has become a no no.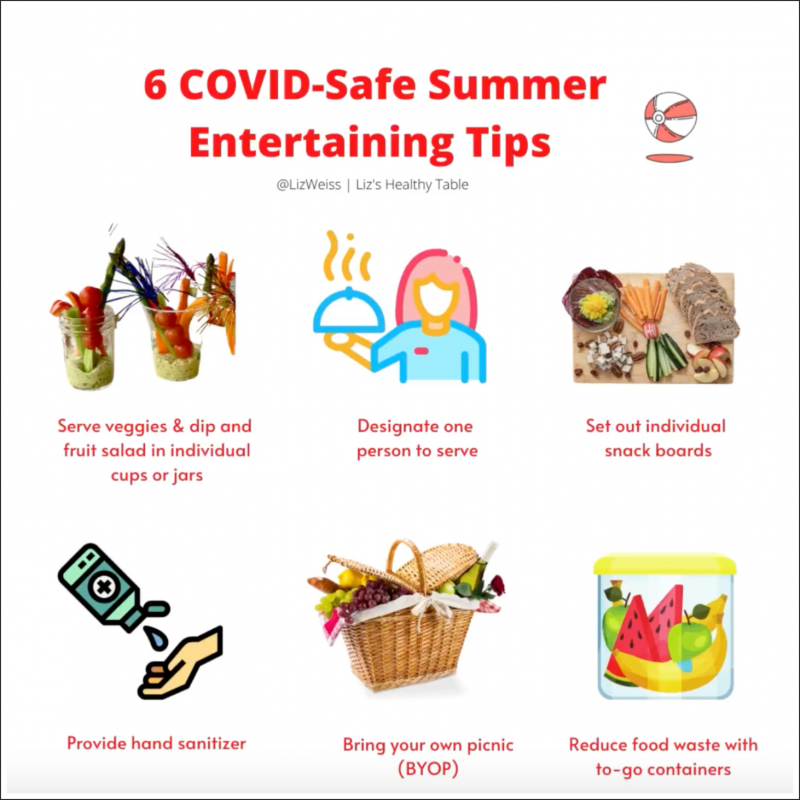 Moving forward, how do we enjoy the company of friends and family without the worry of inadvertently getting someone sick? What measures can we take to prepare, serve, and eat our favorite seasonal fruits and veggies in a safe and delicious way? What follows are 6 savvy summer strategies I have personally started to follow … PLUS, I created a playful new recipe for White Bean Dip with Crunchy Veggies that you can add to your summer outdoor eating repertoire.
6 COVID-Safe Outdoor Entertaining Tips
Fruits and vegetables are the stars of summer entertaining. In fact, what would summer be without juicy slices of watermelon at July 4th picnics, corn on the cob dripping with butter, grilled vegetables (have you tried my grilled cabbage?), potato salad, and farm-fresh vegetables served with savory dips. Try these 6 steps for serving food safely.
Serve veggies and dip in individual plastic cups or small Mason jars:

 

Instead of a big platter that's shared by multiple people (and hands), serve veggies and dip in individual cups or Mason jars. Do the same with things like fruit salad, potato salad, and coleslaw.

Designate one person to be the official server:

 

To prevent everyone at your outdoor gathering from touching serving utensils, assign one person to be the designated server. If that's you, wash your hands in hot soapy water for the recommended 20 seconds, and to be extra safe, wear your face mask.

Provide hand sanitizer:

 

Place a bottle of hand sanitizer on a picnic table or blanket so everyone at your outdoor gathering can use it before eating.

Bring your own picnic (BYOP):

 

Instead of providing all the food yourself, host a BYOP event at a park or beach by asking your guests to provide their own food. Think of it as a potluck where everyone only eats what they bring.

Set out individual snack boards for each guest or family:

 

Snack boards (AKA appetizer boards) are a fun way to kick up any outdoor spread. Set out grapes, sliced apples, cheese and crackers, nuts and dried fruit, carrot sticks, hummus, and sliced prepared meats. Everyone gets their own mini snack board, which you can certainly serve on sturdy paper plates. If you need inspiration, check out my post on

 

How to Make a Kid-Friendly Snack Board

.

Reduce food waste with to-go containers

: Food is precious, so the last thing we want to do is

 

waste it

. After your cookout or picnic, provide to-go containers so guests can leave with leftovers from single-serve cups or snack boards.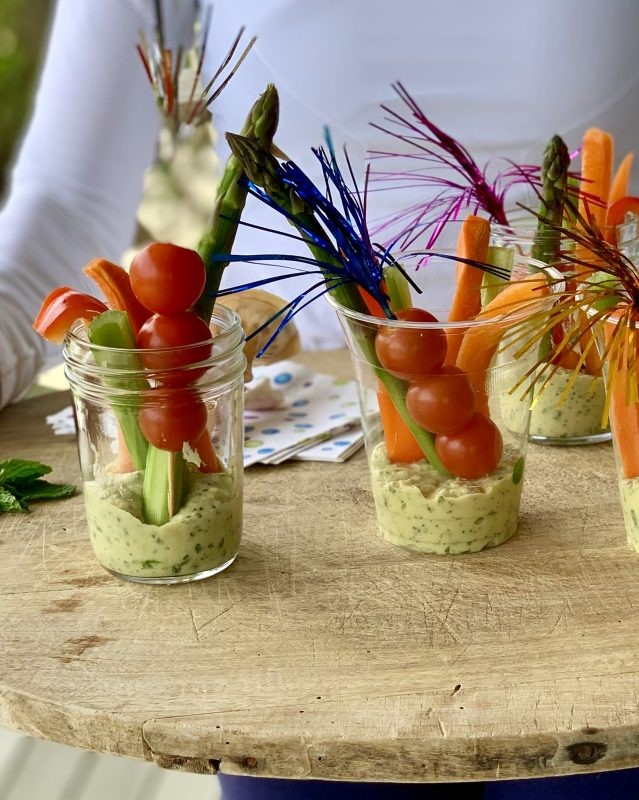 For a new recipe perfect for COVID-safe entertaining, try this White Bean Dip with Crunchy Veggies. Canned beans are inexpensive and versatile and they work wonders in this easy dip. If you don't have cannellini beans, use chickpeas. And if you don't have fresh basil and mint, try other leafy herbs like parsley, cilantro, dill, or tarragon. As for veggies, the sky is the limit. Use carrots, celery, bell peppers, cucumber, asparagus, you name it!