It's time to celebrate Christmas in July!  We all love the ability to get together with friends and family and have a reason to celebrate. Summer is the perfect time for this, and what better theme than a Christmas in July theme?
The theme of Christmas in July gives you the ability to do some fun Christmas recipes with fruits and vegetables that are currently in season.  In addition, there are lots of fun food items that would be great for a Christmas theme.  However, in December, the fruit or vegetable may not be in season.
So, let's take a minute to think about the fun recipes we can make with summer produce.
Christmas in July Themed Summer Produce
Here are some examples of summer produce that pair well for Christmas in July themed recipes:
Watermelon
Avocados
Bananas
Okra
Strawberries
Lemons
Blueberries
Grapes
Honeydew Melon
Limes
Bell Peppers
Take a look at What's in Season this Summer.
Christmas in July Food Theme Ideas
Now that we can see the vibrant colors, your mind is starting to get creative, right?!  Let's talk about a few ideas to get you started.
We are going to be creating the following decorative Christmas themed summer treats:
Watermelon Christmas Trees
Cocoa-nut Smoothie
Santa at the Beach
Watermelon Christmas Trees
A fan favorite during summer is watermelon, and it is the perfect fix on a hot day!
Watermelon is in its peak season during the summer, so it is the perfect produce item to use for Christmas trees.
To make Watermelon Christmas Trees, all you need is 3 things:  watermelon, a knife, and maybe a cookie cutter.
Cut the watermelon into ½ thick slices.  Then, using the cookie cutter or knife, cut out the "trees."  Finally, place the trees on a platter and enjoy.  Garnish with coconut to make it look like it is snowing!
Cocoa-nut Smoothie
Using a packet of cocoa mix, we are going to make what we traditionally drink as a hot beverage turn into a cool treat.
Here is what you will need: 1 ½ cups milk, ¼ cup of unsweetened coconut milk, a packet of instant cocoa mix, and ½ frozen banana.
Place ingredients in the above order into a blender.  Blend together until well mixed.  Pour into your favorite Christmas mug.  Finally, add a straw and enjoy.
Feeling extra creative?  Grab a fresh coconut or a coconut shaped container to use for this smoothie.  Moreover, add a candy cane for a fun Christmas in July vibe.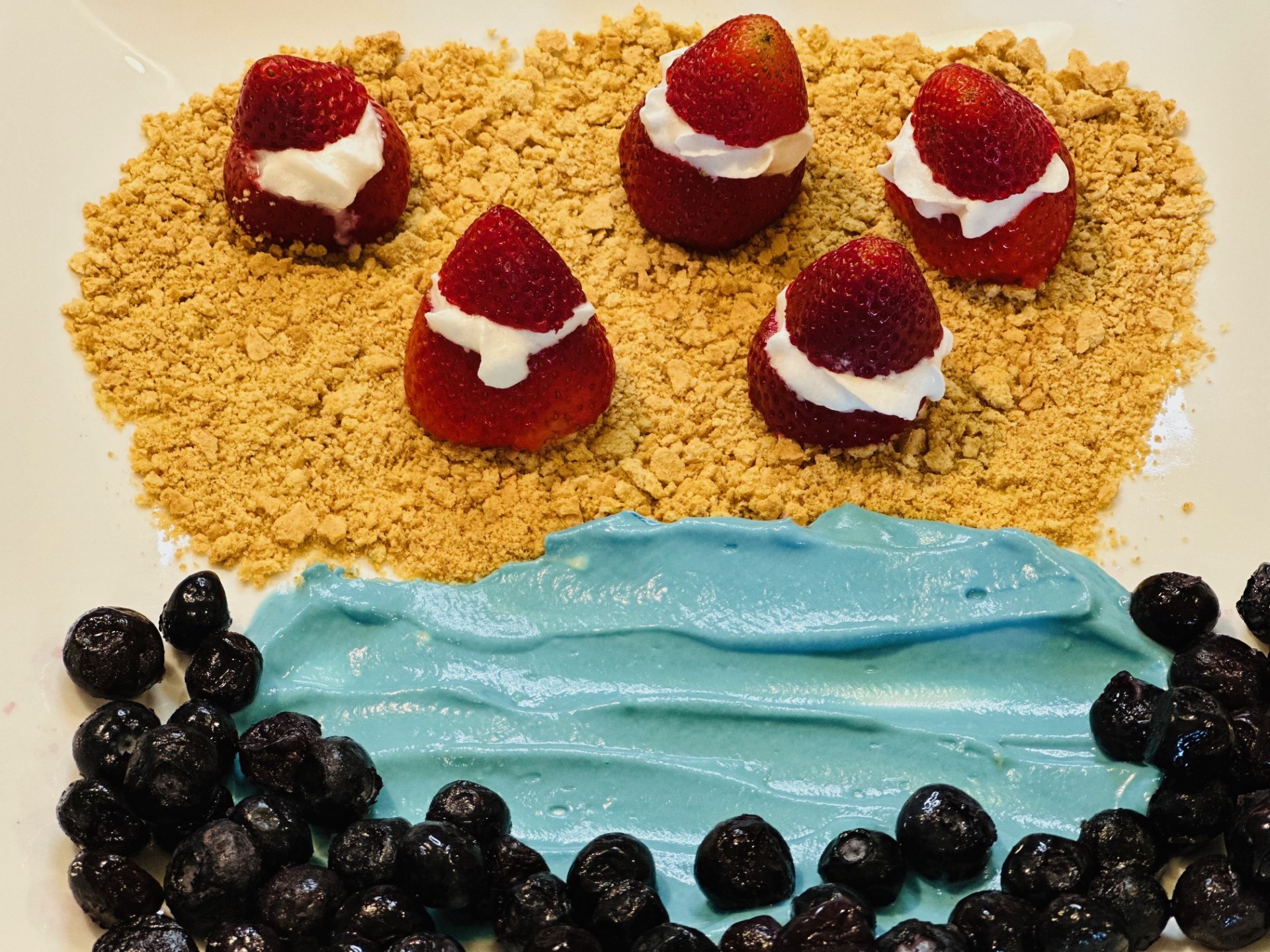 Santa at the Beach
Just because Santa lives at the North Pole doesn't mean he isn't up for a good vacay!  Let's make a vacationing Santa using strawberries.
Here is what you will need:  graham cracker crumbs, strawberries, blueberries and whipped cream.
Layer the graham cracker crumbs at the bottom of a Christmas platter.  This should look like "sand." On one side of the platter add a layer of blueberries to look like the "beach water."
Prepare the strawberries by cutting off the stem side to make it flat.  This will be the bottom side of the strawberry decoration.  Then, cut the strawberry in half lengthwise in the middle.
Add whipped cream between on the bottom half and then top with the strawberry tip.  If you are feeling extra creative, you can add peach ring candy next to the Santa's to appear as an innertube next to him.
Isn't this fun?  Be creative with the theme and enjoy your favorite summer flavors.
There are so many vibrant fruits and vegetables in the summer.  This makes July the perfect time of year to get creative in the kitchen.  It's a great time to get the kids in the kitchen and let them explore their own unique creativity with food.