Warmer weather tends to have an impact on my appetite.  I usually look for lighter far when the temps begin to rise and foods that have a higher water content to help keep me hydrated.  Fruit and veggies are a great solution …they are full of nutrition, give me energy, and don't weigh me down in the heat.  When it comes to sandwiches, I find that going for a lighter version during the summer months works best for me.  Enter the wrap.  Wraps have gained popularity the past 10 or 15 years as folks have tried to reduce their carb consumption.  In addition, their super easy to eat on the go (all your sandwich contents fit so neatly into the corn, whole wheat, or flour tortilla).  I've gathered a few interesting wrap recipes you've really got to try this summer, but it's just as simple to create your own by using your favorite sandwich ingredients and substituting the tortilla instead of bread.
California Avocado Super Summer Wrap is one of Fruits & Veggies–More Matters featured healthy plate recipes.  It features cooked chicken breast, chopped avocado, blueberries, grated carrot, chopped red onion, fresh arugula, nonfat Greek yogurt, and lime juice.  You'll use a whole wheat tortilla as your wrap.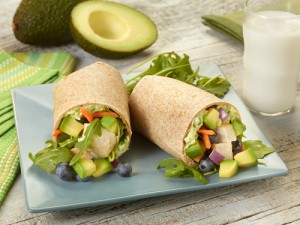 Courtesy of Fruits & Veggies–More Matters
If you love veggies, you'll want to make this Tangy Veggie Wrap.  It contains spinach leaves, bell pepper, grated carrot, red onion, sunflower seeds, bean sprouts, cottage cheese, Greek yogurt, lemon juice, Dijon mustard, salt and pepper to taste.  Use your favorite kind of tortilla as the wrap.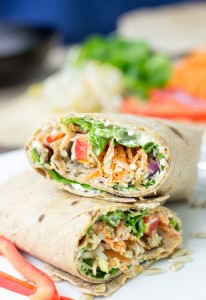 Courtesy of Hurry The Food Up
Greek Roasted Red Pepper Wraps have a delicious savory blend of flavors.  You'll need sliced, roasted red peppers, baby spinach, baby bella mushrooms, sliced cucumber, goat cheese, feta cheese, sliced olives, and chopped green onions.  For this wrap, you're going to heat the wrap, cheese, mushrooms, and green onions in a skillet, just until the cheese starts to melt.  Remove from the heat and add the spinach, cucumber, and olives.  Serve and enjoy.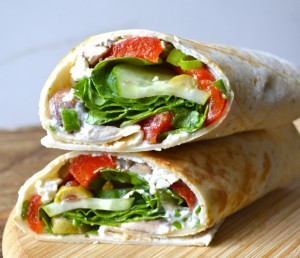 Courtesy of My Fitness Pal
I'll return next Monday with some tips for your next picnic and great recipes that will make you feel like a pro.
See all posts