September is National Chicken Month.  I highlight this because chicken can be a terrific source of lean protein–just make sure you use the white meat and remove the skin.  It's also important how you prepare chicken.  No deep frying, which will add unnecessary fat and calories.  Try methods like roasting, broiling, grilling, and braising.  And, be sure to include lots of fruit and veggies to your chicken dishes to further boost the nutrition.  For this week's blog, I've selected some ideal chicken recipes that are both delicious and good for you.
One Pan Lemon Parmesan Chicken and Asparagus is bursting with flavor.  Skinless chicken breasts are lightly coated in a garlic/lemon mixture, Parmesan cheese, and Panko bread crumbs before baking.  When the chicken is halfway done, the asparagus is placed on the pan, next to the chicken, and drizzled with lemon/butter sauce and Parmesan cheese.  Finish baking (about another 10-12 minutes).  You'll top the chicken and asparagus with a sauce made from melted butter, lemon juice, lemon zest, olive oil, and honey.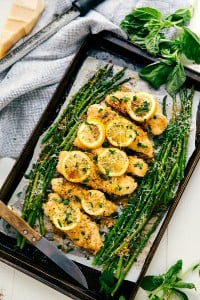 Courtesy of Chelsea's Messy Apron
Burrito Bowls with Chicken are a fun dinner entrée that are loaded with healthy ingredients.  Cilantro lime rice provides your base.  Toppings include boneless, skinless chicken breast, sliced avocado, black beans, salsa, shredded romaine lettuce, and sour cream.  You'll love the blend of textures, colors, and flavors in this dish.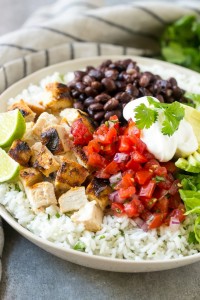 Courtesy of Dinner at the Zoo
Fruits & Veggies–More Matters has Thai Pineapple and Chicken as one of their featured Healthy Plate recipes.  It blends sweet and spicy flavors in this dish and features skinless, boneless chicken breasts, fresh pineapple, and bell peppers.  In addition, you'll use onion, broccoli and brown rice in this recipe.


Courtesy of Fruits & Veggies–More Matters
Enjoy these dinner ideas and next week I'll be back with some time saving ideas to help you with dinner, now that we're back in the school and extracurricular activities mode for fall.
See all posts