When the temperatures rise, it's important to stay hydrated.  Of course the obvious answer is to drink plenty of liquids, preferably water, but another great way to ensure you keep hydrated during these hot, summer months is by adding plenty of fruit and veggies to your diet.  This is because lots of fruit and vegetables have a high water content, especially some that are in season right now!  For example, leafy greens, melons of all kinds, berries, and stone fruits like peaches and nectarines are great ways to stay hydrated. An added bonus is these fruit and veggies also provide important nutrients that help to keep your body healthy.
Who doesn't like popsicles?  And let's face it …popsicles scream summertime. This recipe for Strawberry-Cantaloupe Popsicles only uses two ingredients and those ingredients are two, delicious in season fruits.  Seriously, you can beat this treat and it's a perfect way to cool down while staying hydrated.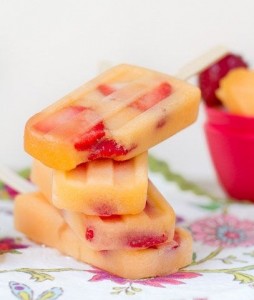 As I mentioned, salads are a great way to help keep hydrated through your meals.  A popular salad is Cucumber Salad.  This recipe incorporates fresh cucumbers, onion (I like to use red onion), and fresh tomato.  It's topped with a wine vinegar dressing and you can serve it over a bed of fresh greens to boost the water content of your meal even more.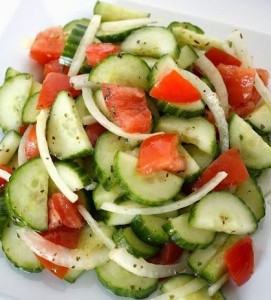 Sweet Georgia Peach Tea makes me think of summer in the South.  I love iced tea (my favorite drink!) and I love fresh peaches, the combination is simply wonderful.  This recipe also addes a sprig of fresh mint and some sliced lemon–talk about refreshing!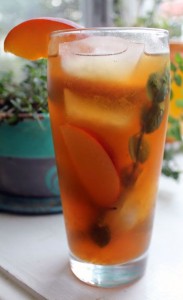 These are just a few ideas to keep you hydrated this summer.  Smoothies, fruit ices, and other cold treats will work well too.  The important thing is to drink plenty of water and eat a variety of juicy fruit and veggies that are now available to help keep you cool.
See all posts