Happy October everyone!  You know what that means–rich autumn colors, crisp fall days and cool weather are upon us.  This is the time of year when I begin to seriously start cooking up some comfort foods like soups and stews.  It just so happens that October is National Chili Month and the autumn weather is the perfect time to enjoy a bowl of spicy chili.  Typically, we think of the traditional beef chili, made with a tomato base and most often beans are added.  However, I'd like to share two other chili options that are just as delicious and a bit healthier than the classic version.
White Chicken Chili has become quite popular in recent years and this particular recipe is especially easy.  It's got only five ingredients yet is packed with flavor.  Shredded chicken breast, chicken broth, Great Northern beans, ground cumin and salsa verde (a salsa made from tomatillos, garlic, lime juice, jalapeno peppers and onions) are combined to create a delicious blend.  Top this chili with diced avocado, shredded cheese, fresh cilantro or sour cream.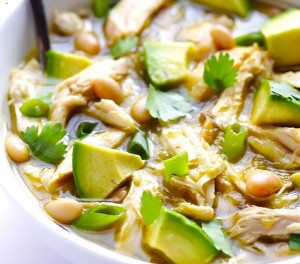 Chili is an excellent vegetarian choice as can be seen by this recipe for Pumpkin Chili with Black Beans and Garbanzo Beans.  There are a ton of vegetarian chili recipes available (6 bean, bean and sweet potato, etc.), but since it is October I loved the idea of adding a little pumpkin.  This version uses vegetable stock, canned tomatoes and pumpkin puree as its base.  Then, onion, garlic, beans and spices are added to complete the recipe.  Garnish this dish with some chopped green onion.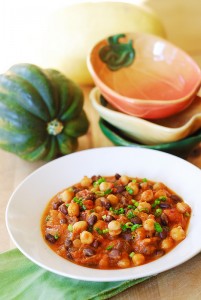 Of course, if you want to stick with your tried and true old fashioned chili recipe, you can always improve the nutrition content by adding more veggies like extra beans.  For example, instead of just the standard kidney beans, try adding black beans and garbanzo beans too.  To reduce the calorie and fat content, instead of using ground beef, do what I do and use ground chicken breast.  Add even more nutrition by including healthy toppings like diced tomatoes, chopped avocado or minced onion.  And, remember that chili makes for a great "Game Day" dish as you cheer your favorite team on to victory!
See all posts