The holidays are meant for celebrating and we often associate poor diet choices with decadent desserts or heavy appetizers, which typically make appearances at holiday parties.  However, just as damaging are seemingly innocent holiday spirits, those festive beverages that are so easy to consume, yet can pack on the pounds.  The problem is that many of these drinks have either a high sugar content, or in some cases, high fat and sugar content.  Couple that with added alcohol and you've got yourself a diet disaster.  On top of that issue, they do nothing to make you feel "full," so you're still going to consume added calories of food on top of the ones you've just drank.
The good news is if you're hosting your own holiday party you can still serve holiday beverages and keep them both festive and healthy.   I've pulled together some recipes to try this season.
Cranberry Apple Cider uses your slow cooker and four ingredients for this hot, holiday drink.  Fresh cranberries, whole cinnamon sticks, whole cloves and 100% apple juice–that's it!  You serve this warm, straight out of the slow cooker and what's even better is that the kids can enjoy it too.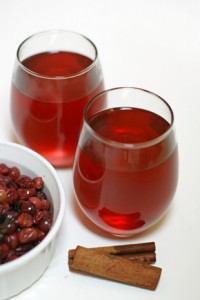 Photo Courtesy of $5 Dinners
Traditional Egg Nog is delicious, but it's loaded with fat and calories.  To the rescue is Pumpkin Nog –this version is all natural and uses pumpkin puree, raw cashews and a mix of maple syrup and spices.  Not only does it omit the fat content, but you also benefit from the pumpkin (they are an excellent source of Vitamin A and a good source of Vitamin C).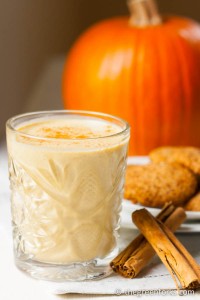 Photo Courtesy of The Green Forks
Cranberry Orange Spritzer is perfect for holiday parties.  Champagne, cranberry juice (this recipe calls for a diet version), 2 tablespoons orange juice and club soda are combined and then topped with fresh cranberries and orange slices.  The drink is both tasty and festive looking without being heavy.  You can make this without alcohol if you choose.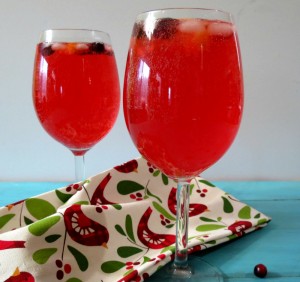 Photo Courtesy of Peanut Butter and Peppers
What would a holiday party be without punch?  This Sparkling New Year's Eve Punch uses 100% pomegranate juice, pomegranate seeds, fresh mint leaves, sparkling water, fresh limes and rum or mint flavored vodka (optional).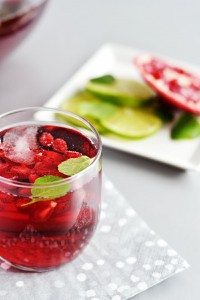 Photo Courtesy of Nature Box
I hope you enjoy these healthier beverage options this holiday season and have a happy holiday with your family and friends!
See all posts