Food prices are skyrocketing due to multiple factors along the food supply chain (including fuel prices). You normally might not think twice about throwing a banana into the trash.
Go do this: Go get your wallet. Take out some cash and throw it into your kitchen garbage can. (Wait, what?) Throwing away food is like throwing your money away. Now's the time to stop and save it. April is Earth Month, and when you send less food to your local landfill, you are helping to reduce methane emissions (methane is a potent greenhouse gas produced when food rots).
It's not meal planning, it's planning to use your food
When I talk about meal planning in terms of zero waste cooking, I'm not talking about a week's worth of menus. I'm simply talking about having a plan for the food you buy.
What if you started thinking about food in the same way you think about your dog, cat, or child? You wouldn't just put them in a room, close the door, and never check on them right? No! So why do you do that with your bananas or other produce on the counter or in your fridge?
You probably have bananas staring at you on the counter right now…
Bread Pudding is Here for You
Bread pudding is a comfort food and a food waste hero recipe. The beauty of a bread pudding is that you can really change up some of the ingredients and use what you have. If you have stale bread, eggs, and some other liquid (in this case milk and pureed bananas), it's gonna work. You can use any type of bread (as I'm doing here). You can add different spices (nutmeg, pumpkin pie spice, cinnamon, allspice). You can other types of leftover or canned fruits to it. Or you can even make it savory (with rosemary, oregano, and leftover veggies). You can use brown or white sugar, maple syrup, or no sugar (as in this case, I omitted sugar because the bananas offered both sweetness and moisture).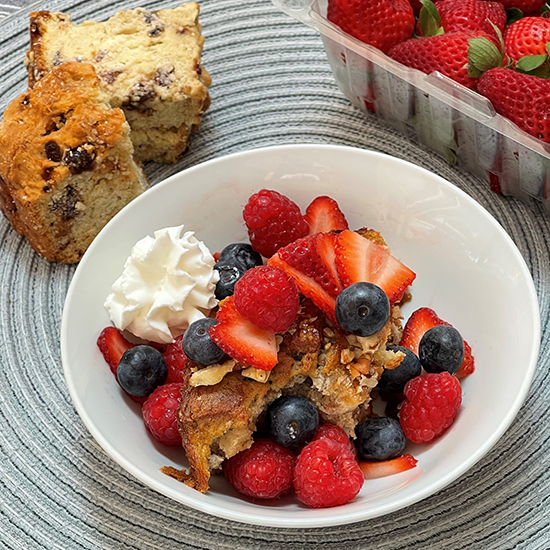 Banana Bread Pudding
Ingredients
3 cups stale bread, cubed (I used Soda Bread with Dried Cherries)
3 ripe bananas
3 eggs
1/2 cup milk
1/2 teaspoon pure vanilla extract
1 teaspoon ground cinnamon
2 teaspoons brown or granular sugar
Fresh berries
Whipped cream (optional)
Directions
Butter the bottom and sides of an 8×8-inch or 2-quart baking dish. Preheat the oven to 350F.
Place all ingredients into a high-speed blender or food processor. Blend until smooth and combined (about 1-2 minutes).
Pour the creamy banana-egg mixture over the bread cubes. Top with sugar and bake for 45-50 minutes, until center is set.
Cool slightly and serve (or eat at room temperature). Spoon into serving dishes and top with berries and optional whipped cream.