October 4th is National Taco Day (yes there really is a Food Day for everything!).  Tacos are a personal favorite of mine–they're simple to make, kid friendly, and fun to eat.  An extra bonus is they're really simple to throw together for a weeknight supper.  While we typically think of the traditional ground beef tacos, topped with shredded cheese, salsa, diced tomatoes, and shredded lettuce, there are some really creative ways to enjoy this Mexican feast.
Skinny Baja Chicken Tacos are a dieter's delight.  Sliced chicken breasts that have been coated in olive oil, chili powder, garlic powder, cumin, and lime are sautéed in a large skillet.  In the meantime, you'll prepare a cabbage slaw with shredded red cabbage, Napa cabbage, carrot, nonfat Greek yogurt, lime juice, honey, and salt/pepper to taste.  A spicy chipotle sauce is made from nonfat Greek yogurt and 1-2 ancho chilies (canned in sauce). These tacos are served on warm corn tortillas and topped with pico de gallo and guacamole.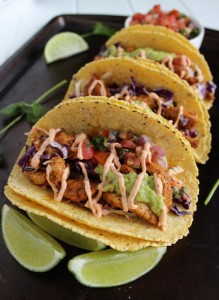 Courtesy of The Live Fit Girls
Grilled Fish Tacos with Lime Cabbage Slaw is another great low-cal option.  Marinate a nice white fish like cod, mahi mahi, or tilapia in canola oil, lime juice, garlic, cumin, paprika, chili powder, cayenne pepper for about 20-30 minutes, and season with salt and pepper.  Prepare the cabbage slaw with thinly sliced red cabbage, chopped cilantro, thinly sliced red onion, lime juice, and canola oil.  Grill fish until cooked through, break into pieces, and serve on warmed taco shells with cabbage slaw and sliced avocado.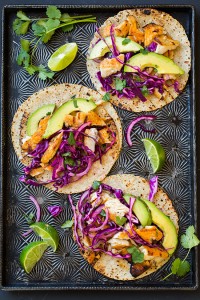 Courtesy of Cooking Classy
Slow Cooker Salsa Verde Honey Lime Chicken Tacos are especially simple since they put to use your crockpot and let it do all the work.  You'll use boneless, skinless chicken breasts, mild salsa verde, honey, lime juice, chili powder, onion powder, garlic powder, smoked paprika, cumin, salt, and pepper.  Set your slow cooker to low and let cook 6-7 hours.  About a half hour before finished you'll take the chicken out and shred it.  Place back into slow cooker and let finish.  This recipe calls for using a flatbread as the taco base, but you can use traditional corn or flour tortillas if you prefer.  Toppings include sliced avocado, lettuce, tomato, shredded cheese, cilantro, and sour cream.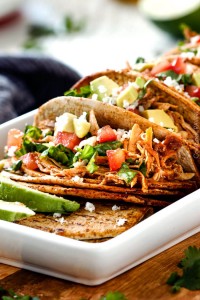 Courtesy of Carlsbad Cravings
Have fun with these taco recipes and I'll be back next week with a few ideas that feature sweet potatoes and yams perfect for fall.
See all posts