Summer is here and so are delicious seasonal fruits and veggies just waiting to be eaten. Eating seasonal produce benefits the local community and the economy; and it reduces transit, which in turn reduces the carbon footprint and provides nutrient-dense foods that are at their peak of ripeness ready to eat.
One of my favorite summer seasonal produce items is sweet corn. Nothing tastes like summer more than grilled corn on the cob which makes for a sweet and crunchy topping on salads, in salsas or as part of a grilled pizza/flatbread . Sweet corn can usually be found in early July through the end of August. To pick out the best corn this summer, look for corn that has a bright green husk that is wrapped tightly against the corn and slightly damp. The tassel should be light brown or gold, and slightly sticky to the touch. Give the corn a squeeze. It should feel firm and kernels should be plump.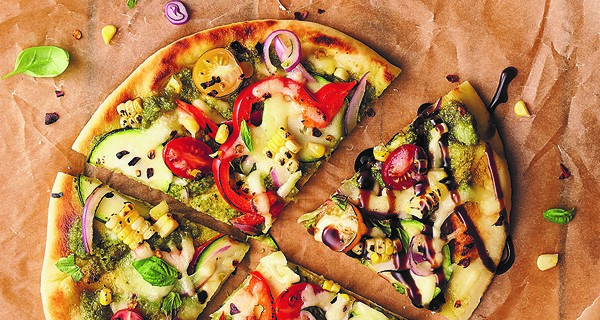 Get the recipe for Garden Fresh Flatbread
Zucchini squash is another seasonal favorite that can be used in a variety of dishes. One of my favorite ways to eat this seasonal veggie is using it as a vessel filled with lean protein, colorful veggies, healthy fats and flavorful herbs and spices for an all-in-one type of meal. Zucchini squash is in season starting in early summer and lasts all summer long. For the freshest zucchini choose a smaller zucchini that is firm from end to end. These tend to have less seeds and are crisper.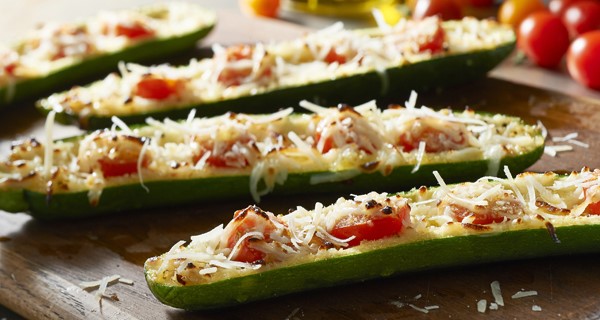 Get the recipe for Caprese Zucchini Boats
Stone fruits like peaches, plums and nectarines are at their peak of season in August. If you are looking for new grilling recipes, give grilled fruit a try. I love eating fruit for dessert and with the summer heat, turning on the oven is the last thing I want to do, so using my grill and a cast iron skillet to make a fresh nectarine crisp is the perfect solution to satisfy my sweet tooth. For the sweetest nectarines choose the fruit that feels heavy for its size and gives a little when squeezed.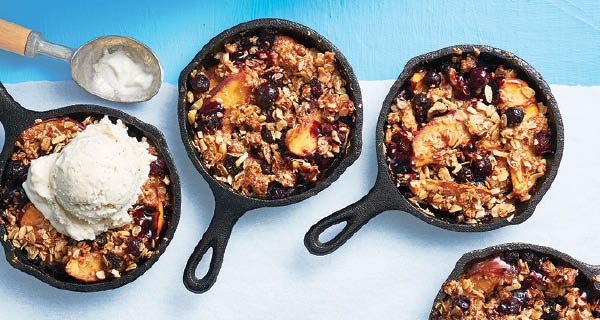 Get the recipe for Nectarine Blueberry Crisp