Tapas cuisine originates in Spain and is a style of eating rather than a form of cooking.  Tapas focuses on small, flavorful appetizers and snacks and combining them with beverages (primarily cocktails) in a social setting.  In recent years, Tapas restaurants have become popular, giving customers an alternative to the traditional dining experience.  You can also celebrate this dining style by holding your own tapas party.  I've gathered a few healthy recipes to get you started.
These Balsamic Soy Roasted Mushrooms pack a lot of flavor in small bites.  You'll combine fresh, white mushrooms with olive oil, balsamic vinegar. soy sauce, garlic, thyme, salt, and pepper.  Arrange them on a baking pan and roast in a 400 degree oven for 20 minutes, mixing half way through.  The mushrooms will be tender when done.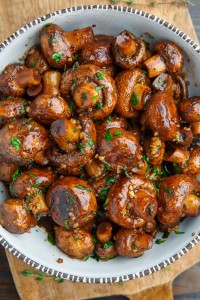 Courtesy of Closet Cooking
Spanish Tapas Peppers are a savory way to enjoy stuffed peppers as an appetizer, rather than a main dish entrée.  These peppers are stuffed with raisins, garlic, olives, anchovies (optional), tomato, saffron, bread crumbs, and parsley.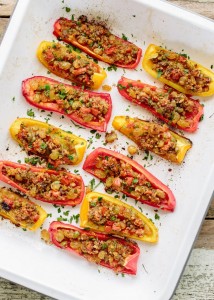 Courtesy of Kimberley Hasselbrink
Sweet Potato Crostini with Cheese, Pear and Thyme is another appetizer that packs a lot of flavor.  Roasted, sliced sweet potato provides your base.  You'll top this with sliced pear, a little goat cheese, some walnuts, and a sprig of fresh thyme.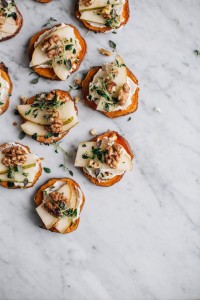 Courtesy of Tuulia
I hope these recipes inspire you to explore Tapas cuisine.  I'll return next Monday with some great ways to use avocado in your meals
See all posts