I honestly don't think I've bought jelly since I first learned how to create chia jam. Not only is it easy to make, it's also packed with fiber, healthy fats and naturally occurring sugar, which can't always be said with regular preserves or jams. While I'm showcasing it in a parfait, this Concord grape chia jam is also fantastic paired with peanut butter. Just like the classic PB&J combo, but more nutrient-dense. In fact, 100% Concord grape juice has been shown to help promote healthy blood flow.
This chia jam pretty much makes itself: place the liquid in a jar, add the chia seeds, shake and place in the fridge. Chia seeds do their magic and you are rewarded with thick, fruity jam. For a simple breakfast or snack, make the chia jam at night and assemble in the morning. I like pairing this jam with a lightly sweetened Greek yogurt, but your favorite variety will do.
Grape Chia Parfait Cups Recipe
Serves 4
1 cup 100% Concord grape juice
⅓ cup chia seeds
2 cups yogurt
Fresh fruit, for serving
Whisk together the Concord grape juice and chia seeds together in a bowl. Place in the fridge to let firm up at least 8 hours, or overnight.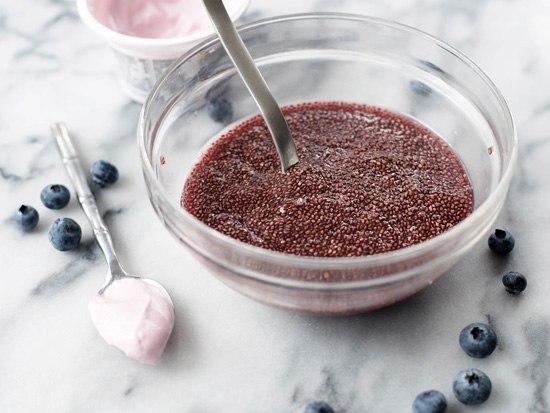 When ready to serve, layer the chia seed pudding with yogurt and fresh fruit. Serve immediately.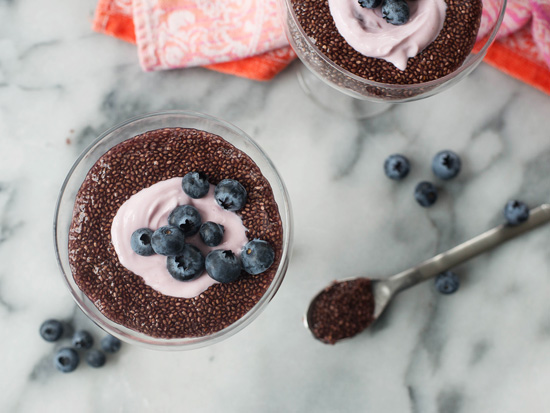 Nutrition Info
Per serving (4): 166 calories, 4.6g fat, 1.5g saturated fat, 7mg cholesterol, 91mg sodium, 349mg potassium, 23g carbohydrates, 3.1g fiber, 18g sugars, 9g protein
Photo Credit: Alex Caspero