Thanksgiving was always a big holiday in my house growing up.  My mom cooked the holiday feast and we would typically host my uncle who worked for a produce supplier.  I recall him dropping off a box filled with the freshest fruit and veggies the day before Thanksgiving in advance of the big dinner.  Among the crisp apples and juicy pears, there would be some very specific items that my mother would prepare, which were tradition for our Italian heritage–artichokes for the steamed artichokes with garlic and mushrooms for the marinated mushroom salad.
I've shared how to prepare artichokes in a prior blog, but I wanted to share our family's marinated mushroom salad recipe with you this week.  It's a very tasty side dish and one that can be prepared ahead of time, which is something that is quite helpful with all the day-of prep that's happening on Thanksgiving.  Mushroooms are also in season right now and you can easily find them at your local supermarket at a great price.  Your Produce Man has some helpful tips on selecting the perfect mushrooms for this delicious recipe.
Marinated Mushrooms
2 pounds white mushrooms, washed and cut in half or quarters, depending on size
1 cup white vinegar
1/2 cup vegetable oil
2 cloves garlic, minced
3 teaspoons fresh parsley, finely chopped
1/8 teaspoon oregano
1 1/2 teaspoon salt
1/4 teaspoon pepper
juice of 1 lemon
Cover mushrooms with water in a large pan with 1 teaspoon of salt and the juice of 1 lemon.  Bring to a boil and cook 5 minutes.  Drain mushrooms and cover with 1 cup of white vinegar and 1 cup of water.  Marinate in the refrigerator overnight. The next morning, save 2/3 of the water/vinegar mixture and drain the rest.  To the mushrooms, add 2 cloves of minced garlic, 3 teaspoons of fresh parsley, finely chopped, 1/8 teaspoon oregano, 1/2 teaspoon salt, 1/4 teaspoon pepper, 1/2 cup of vegetable oil and 2/3 of the water/vinegar mixture you saved.  Refrigerate and continue marinating for at least 12 hours.  You can garnish this dish with a bit of extra fresh parsley when serving.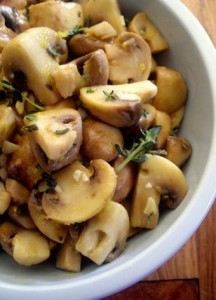 Photo courtesy of Running with Tweezers
My husband, who is Italian and loves marinated mushrooms loves this dish.  It's very authentic and has a tart vinegar "pop" to the taste, which comes from the long marinating period.  However, if you're looking for a similar flavor, but one that doesn't require as much marinating time, I did find this recipe for Marinated Mushrooms that's ready in about 10 minutes.  You'll find there are some similarities–garlic, lemon and vinegar–but this recipe uses bay leaf and thyme as flavors.
Have a wonderful Thanksgiving and look for next week's blog when I'll have some healthy alternatives for all those Thanksgiving leftovers!
See all posts