It's hard to believe in just three short weeks we'll be celebrating Thanksgiving–everyone's favorite "food" holiday.  One traditional recipe associated with Thanksgiving is pumpkin pie and it's easy to see why–it's the perfect dessert for autumn.  The warm shade of orange goes perfectly with a harvest table and the spices of nutmeg, ginger and cloves are ideal flavors for this time of year.  Yet, it's easy to forget that pumpkin is a versatile veggie (yes, it is a vegetable!) that can be enjoyed in many recipes while it's in season.
The first thing to know is that pumpkins are quite nutritious, they're a good source of vitamin C and an excellent source of vitamin A.  Like many winter squash, when stored in a cool dry place they will keep for up to two months.  While it's natural to think of using pumpkins in sweet dishes, they are terrific additions in savory dishes like Hearty Santa Fe Pumpkin Soup.  Along with pumpkin, this recipe includes ingredients like black beans, garlic, cilantro, green chiles and cumin to really kick up the flavor.  If you're feeling adventurous, definitely try this tasty recipe for Pumpkin Ravioli with Sage Brown Butter Sauce.  While it will take you some extra time to make your own pasta, the end result will be worth it!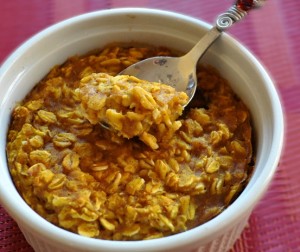 Pumpkin is a great way to start your day, like with this recipe for Pumpkin Oatmeal.  I personally love oatmeal during the cold weather months and adding canned pumpkin to it, along with some chopped nuts is wonderful.  It makes for a delicious breakfast and keeps me feeling full until lunch!  A great breakfast idea your kids will love are Best Ever Whole Wheat Pumpkin Pancakes.  Terrific for a Sunday morning, these tasty flapjacks contain whole wheat flour, pumpkin puree and spices like cinnamon, nutmeg and cloves.  Top them with some sliced bananas and a drizzle of maple syrup.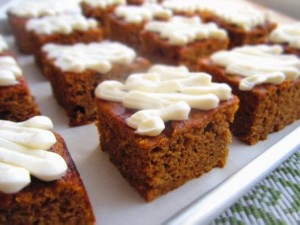 If your tastes do run toward the dessert spectrum, there are options other than pie.  Pumpkin Bars make a great dessert or lunchbox snack and this recipe uses reduced fat ingredients, which makes them 140 calories per serving.  Finally, for those special occasions, try this recipe for Apple Pumpkin Bread Pudding.  It's a little more decadent than I usually serve, but every now and then I give myself a pass if it's worth it.  I think after you try this you'll agree with me that this dessert falls into that category.
These suggestions are just a few pumpkin flavor ideas.  I encourage you to search for more and take advantage of the many more options available while it's at its peak of flavor.
See all posts