Summer is synonymous with corn on the cob.  It's most likely because from late June through early September, sweet corn is considered in season and plentiful throughout most of the country.  In the Mid-Atlantic states, we know to take advantage of this short season and enjoy this veggie's fresh, sweet flavor while it lasts.  Though it's perfectly delicious eaten alone–simply boil, roast, or grill it and eat straight off the cob, there are some terrific ways you can use fresh corn as well.
Chili Lime Grilled Corn Salad starts with grilled corn, which is then cut from the cob.  Add the corn to diced bell pepper, diced jalapeno pepper, minced scallion, and minced cilantro.  You'll make a dressing with the juice of a lime, some chili powder, and a little salt and pepper.  A simple recipe, but one that's packed with taste.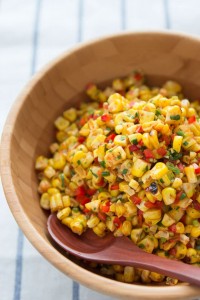 Courtesy of No Recipes
Fiesta Corn and Avocado Salsa is a great appetizer or snack idea.  Use cooked fresh corn, black beans, diced red onion, diced tomato, chopped avocado, chopped cilantro, olive oil, lime juice, minced garlic, cayenne pepper, salt, and pepper.  Mix all ingredients together and refrigerate for one hour.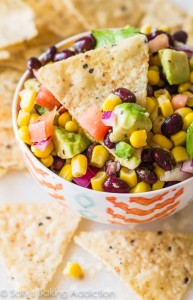 Courtesy of Sally's Baking Addiction
If you still prefer sweet corn on the cob, here is a recipe you've got to try.  Parmesan Chive Corn on the Cob puts a new twist to an old favorite.  You'll need unsalted butter, parmesan cheese, and minced, fresh chives.  You can either grill or bake these in the oven.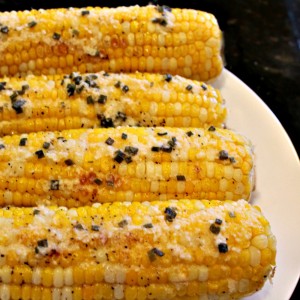 Courtesy of Must Love Home
Get to your local farmer's market or roadside stand and grab some sweet corn before the season's over!  I'll be back next Monday with a few recipes to help get your kids to eat healthier.
See all posts