Now that we're in the middle of growing season, I like to use veggies in creative recipes.  I really enjoy being able to center a meal around vegetables and one way to do this is by stuffing them.  Stuffed peppers are a pretty standard and popular dish, but there are so many ways to use fresh summer vegetables and the ingredients you choose for your stuffing is only limited by your imagination.
Pesto Spinach Quinoa Stuffed Tomatoes are perfect this time of year to use those sweet, garden tomatoes.  This recipes is also vegan, dairy-free, and gluten-free.  You'll make your own pesto by combining fresh basil, olive oil, pine nuts, and salt in a blender (you can substitute nutritional yeast for parmesan cheese to keep this dairy free).  Cored and seeded tomatoes are filled with a combination of pesto, cooked quinoa, sautéed onion and spinach, garlic powder, Italian seasoning, salt, and pepper.  Place the top of the tomato back on and bake in a 400 degree oven for 30 minutes.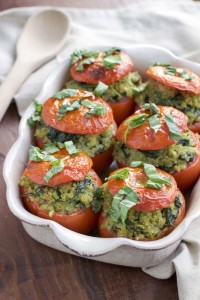 Courtesy of Stacey Homemaker
Traditional cabbage rolls are made with ground meat.  I love the healthier, lighter version of these Cabbage Rolls with Wild Rice and Mushroom Stuffing.  Finely chopped mushrooms are sautéed with herbs, garlic, and onion.  The cooked mushrooms are then combined with cooked rice and a little of the homemade tomato sauce you've prepared.  Roll the filling into cooked cabbage leaves and place them into a casserole dish, then cover with the remaining tomato sauce.  Bake at 350 degrees for 50 minutes.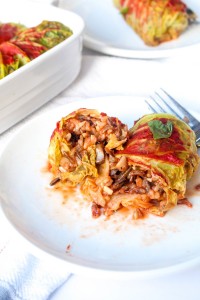 Courtesy of Catching Seeds
Broccoli and Cheese Stuffed Spaghetti Squash is only 314 calories per serving!  And I promise you it will be a family favorite.  You can cook your spaghetti squash in the microwave (or roast them–it's your choice, depending on how much time you have).  Sautee the broccoli with some red pepper flakes and garlic until tender.  In a bowl, mix the broccoli with the "flesh" of the spaghetti squash, Italian seasoning, Parmesan cheese, salt, and pepper.  Add the mixture back into the squash shell and sprinkle some shredded mozzarella cheese on top.  Broil for about 2-3 minutes until the cheese is browned and bubbly.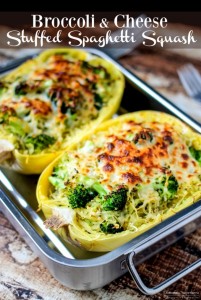 Courtesy of Domestic Superhero
Don't forget about stuffing veggies like peppers, mushrooms, and zucchini as well!  I'm back next week with some delicious ways to incorporate okra into your meals.
See all posts