Stress happens. We all can think of a moment in our lives that something terrifying happened and we started to sweat, and our heart rate increased. These moments of acute stress occur to prepare our body for the potential "fight or flight" response. Once the threat subsides, we return to a neutral state of homeostasis. But what about prolonged stress? Did you know that chronic stress is a common risk factor for over 75% of diseases? Finding ways to help reduce chronic stress is key for better health.
When chronic stress occurs, studies show that this can activate an inflammatory response throughout our body and suppress our immune system. So how can we use food to help combat this inflammation battle? By enriching our diets with high amounts of anti-inflammatory, immune boosting fruits and vegetables!
To help build our immunity and lower inflammation, it is recommended to consume foods high in antioxidants.
So next time you want to go for that sweet or salty snack after a stressful day, try one of these four fruits or vegetables instead:
Tomatoes
These juicy beauties are full of essential vitamins and minerals including vitamins C, A and B6, as well as iron, potassium, and fiber. Not only do tomatoes come in a variety of colors, shapes, and sizes but they also contain a variety of antioxidants which make them powerful at reducing inflammation. The powerful antioxidants found in tomatoes are called carotenoids, with the most abundant carotenoid being lycopene. Research shows that regularly consuming foods high in lycopene may help to reduce the risk for certain cancers as well as reduce the inflammation associated with many chronic diseases. If fact, studies have shown that diets rich in tomatoes, can help to lower inflammatory stress levels that contribute to the development of cardiovascular disease and lower bad cholesterol levels.
Berries
Stressed? Eat some berries! Whether you prefer strawberries, blueberries, raspberries, or blackberries, you can't go wrong with these nutrient powerhouses. In fact, berries are considered one of the top sources of vitamins and minerals and are super-rich in antioxidants. Blueberries contain anthocyanins which have been shown to help fight inflammation as well as improve your heart, brain, and eye health. Raspberries are loaded with polyphenols and fiber, both of which have cancer protective properties. And while we think of citrus when we think of vitamin C, blackberries and strawberries are also loaded with this stress busting antioxidant, which may even help to shorten the duration of those pesky colds.
Leafy Greens
Spinach and bok choy and kale…oh my! As some of the most nutritious foods available, these leafy greens as well as salad greens, broccoli, mustard, and beet greens have some of the highest antioxidant content around. Studies have shown that consuming 2-3 servings per week may help to lower your risk for skin, stomach, and breast cancer. This is all thanks to their cell protecting properties from the abundant number of antioxidants in the form of carotenoids. But that's not all – they also contain a variety of vitamins including A, C, E, K and B. They are loaded with fiber, calcium, magnesium, potassium, and iron too. Haven't you ever wondered how Popeye stayed so strong?!
Oranges
'Orange' you glad these citrusy fruits are included?! In fact, just 1 orange provides more than 100% of your daily vitamin C. When it comes to vitamin C, it's best to consume it through foods versus taking supplements. By eating an orange, you're not only reaping the benefit of this important vitamin, but also consuming fiber and helping to lower your risk of heart disease. When going to make a fruit salad, try this tip! Add a squeeze of orange juice to your cut fruits to help keep them from turning brown, aka, oxidizing!
Looking for more ways to include these stress-busting powerhouses? Try one of these delicious recipes below!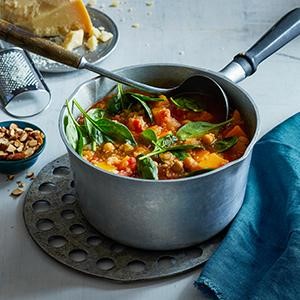 Hearty Vegetable Stew
Ingredients
2 Tbsp. olive oil
2 onions, chopped fine
1 (2-lb.) butternut squash, peeled, seeded, and chopped into 1/2″ pieces (about 4 cups)
4 garlic cloves, minced
2 tsp. coriander seeds, toasted and crushed
6 cups vegetable broth
1 (15-oz.) can chickpeas, drained and rinsed
1 (15-oz.) can diced tomatoes
1/2 cup quinoa, rinsed
6 thyme sprigs
Salt and pepper
4 cups baby spinach
2 Tbsp. chopped fresh basil
1 1/2 tsp. balsamic vinegar
1/2 cup almonds, toasted and chopped
1/2 cup grated Parmesan cheese
Directions
Heat oil in a large Dutch oven over medium heat until shimmering. Add onions and cook, stirring occasionally, until softened, 8 to 10 minutes. Add squash and continue to cook, stirring occasionally, until it just begins to soften about 10 minutes. Stir in garlic and Coriander and cook for 30 more seconds.
Add broth, chickpeas, tomatoes, quinoa, and thyme to the pot. Bring to a simmer and cook, stirring occasionally, until quinoa is cooked and squash is tender, 35 to 45 minutes.
Remove from heat and season with salt and pepper to taste. Remove thyme sprigs and discard. Stir in spinach, basil, and vinegar and ladle into bowls. Top each bowl evenly with almonds and Parmesan and serve.
Source: Hannaford fresh Magazine, January – February 2018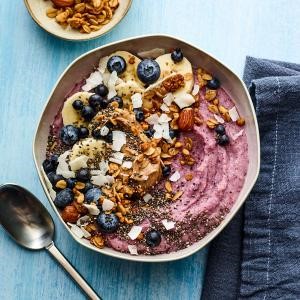 Peach-Berry Smoothie Bowl
Ingredients:
1/2 cup frozen wild Maine blueberries
1/2 cup frozen sliced peaches
1/2 cup frozen whole strawberries
1/3 cup orange juice
1/4 cup vanilla Greek yogurt
1/3 cup fresh blueberries
1/2 banana, peeled and sliced
2 tsp. smooth almond butter
1/4 cup granola
1 Tbsp. unsweetened coconut flakes
1 tsp. chia seeds
Directions
Combine frozen fruit, orange juice, and yogurt in a blender or food processor and process until smooth, about 30 seconds. Transfer to a bowl.
Top bowl with fresh blueberries and banana, dollop with almond butter, and sprinkle with granola, coconut, and chia seeds.