I'm a week late in celebrating, but last week was Split Pea Week.  Split peas are considered to be in the same family as beans and lentils.  When peas are fully mature, the peapod is dried and the skins are removed.  As this is done the peas split naturally.  Split peas are very nutritious. Check out where they fall in our Key Nutrients In Fruits & Vegetables.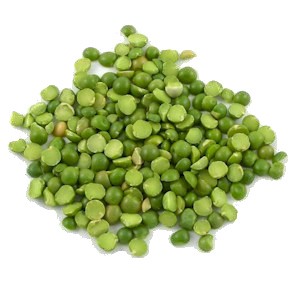 Photo courtesy of Gourmet Sleuth
The most common way to enjoy split peas is split pea soup and the fall season is a perfect time to cook up a pot of this hearty dish.  There are a few different versions, some include more veggies than others and some include ham, but I've got a recipe that uses just a bit of bacon to flavor it and adds carrots and potatoes along with the split peas for a heartier soup.  Serve it with some crusty bread and you'll have a filling supper for a chilly evening.
Slow Cooker Split Pea Soup with Bacon
Courtesy of The Lemon Bowl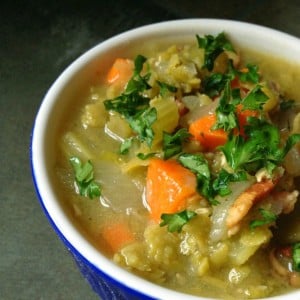 Photo courtesy of The Lemon Bowl
Ingredients:
2 slices bacon – sliced into thin strips
1 onion – diced
2 celery stalks – diced
2 carrots – diced
1 cup split peas (uncooked)
1 teaspoon thyme
2 bay leaves
4 cups chicken broth – low sodium
3 cups water
salt and pepper to taste
Directions:
Cook the bacon in a pan over medium-high heat until crispy and brown; set aside on a paper towel lined plate.
In a slow cooker, add all remaining ingredients including cooked bacon.
Heat on low for 8 hours or on high for 4 hours.  Season with salt and pepper to taste and garnish with fresh parsley before serving.
Serves 6
Enjoy and I'll return next week with some spicy recipes for pepper month.
See all posts