As we wrap up these last few days of 2014, we've got an opportunity to reflect on the past year–the good and the bad, but most importantly we've got a whole new year to look forward to and improve what we don't quite like.  I'm a big fan of new starts, which is one of the things I enjoy about the new year.  However, I find that some folks can get carried away with their new year's resolutions and end up getting frustrated before reaching their goals. Rather than setting huge goals that may take months to reach, try making small changes that will equally impact your overall health.  You can build upon these changes over time and still end up with the same result.
For example, let's say your ultimate goal is to exercise more.  Rather than start off the year by saying you'll spend an hour every day exercising, try to start by saying you'll add 15 minutes a day of activity.  Or, commit to going to your gym (if you have a membership you're not using) twice a week.  These promises are easier to keep.  If you are successful in keeping this commitment for a month or more, up the amount to 30 minutes a day or 3 times per week.  Increase the time commitment as your success continues.  Here are more small changes to make for the new year that you can build upon for a healthier you:
Add more fruit and vegetables to your diet
Eat more meatless meals
Use more herbs, spices and citrus juices for flavor and less sodium
Look for lean sources of protein like beans, nuts and seeds, eggs, fish, white meat poultry and lean cuts of meat
Opt for reduced fat dairy when possible
Get 7-8 hours of sleep
Try to set aside some time each day to enjoy doing something you enjoy!
Since one of my suggestions is to add more meatless meals, I thought I would share this recipe for White Bean Stew and Winter Squash and Kale I found.  It's perfect for the colder months–hearty and hot.  This truly is a vegetarian entrée, just add a salad or slice of bread and you're set for your meal.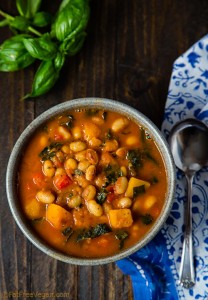 Photo courtesy of FatFree Vegan Kitchen
Happy New Year and I'll be back next week some delicious soup recipes you'll want to try this season.
See all posts