Dips are a great addition to your table.  Add them to your party menu, enjoy them as an appetizer or just prepare them as a snack for spring afternoon.  I know many of you are probably thinking that dips equate to blowing your healthy eating regime, right?  Not so!  There are plenty of lower calorie and fat options available, plus some that add lots of nutritious fruit and veggies in the recipe (and added bonus!).  Another healthy tip is to make sure you enjoy your dip with something healthy like a baked pita chip, cracker or, better yet, veggie stick like carrot, celery or cucumber chip.
One of the most popular dips is a 7-layer dip, but many of the versions out there are loaded with fat and calories.  This recipe for Healthy Mediterranean 7-Layer Dip is the exception.  Packed with a variety of veggies like tomato, cucumber, artichokes, olives and red bell peppers, this dip filled with fiber and nutrients.  Hummus, feta cheese and Greek yogurt are added as the base and provide both flavor and protein, while keeping down the fat content.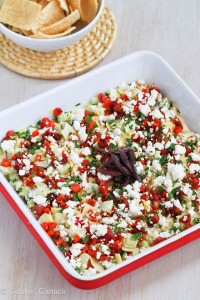 Photo courtesy of Cookin' Canuk
Fruit dip is also quite popular and a flavor that is often used is peanut butter.  This recipe for Peanut Butter Apple Dip was created specifically for apples, but you can use it for other fruits like bananas and pears.  It's really simple to make as it uses only three ingredients–peanut butter, Greek yogurt and honey to sweeten.  This is a terrific snack for your kids (minus any nut allergies of course).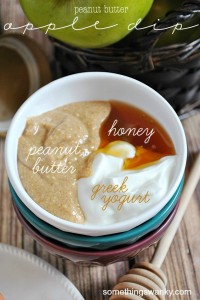 Photo courtesy of Something Swanky
It's hard not to find a menu selection for spinach and artichoke dip when you go out to a restaurant–almost any restaurant.  It's that popular and it's no wonder, it's really that delicious.  Thankfully, there is a way to re-create this dish making it lower calorie.  This recipe for Hot spinach and Artichoke Dip has all the flavor of the original version, you're simply using lighter ingredients like fat free Greek yogurt and part skim mozzarella cheese to reduce the fat and calories of the dish.  Spinach, artichoke hearts, chopped shallots, and garlic make this recipe a hit.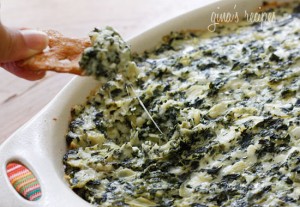 Photo courtesy of skinnytaste.com
Finally, what can beat a dip made out of fresh fruit?  That's what you'll get with this recipe for Fruit Salsa with Cinnamon Crisps.  Apples, kiwis, strawberries and raspberries are combined to make this sweet and colorful salsa.  The cinnamon crisps are created from baking flour tortillas with cinnamon sugar (you can modify the recipe to your liking so that you add less sugar if you choose).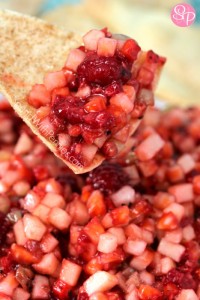 Photo courtesy of Spend with Pennies
Enjoy these healthy dip options and try some of your own creations.  I'll be back next week with some fun, spring picnic ideas.
See all posts