Summer is almost here and if you're looking for a healthy way to keep your cool, reach for a smoothie.  Smoothies are terrific as a meal replacement (think breakfast on-the-go) or snack.  Here's the bonus–these creamy, delicious drinks only HAVE to taste decadent!  You can make them super healthy, in fact, you can get at least one serving of fruit and/or veggies in each serving.  A few simple steps to keep in mind when making a smoothie are:
Pick 1.5 cups of unsweetened liquid such as: low fat milk, almond milk, soy milk, rice milk, coconut milk, or coconut water
If making a "green" smoothie, add 1 big handful of one of the following: spinach, kale, Swiss chard, beet greens, collard greens
Choose 1-2 cups of fresh or frozen fruit such as: banana, apple, melon, berries, mango, pear
Supercharge it by adding as many of the following as you like: (typically these are in the amount of 1 tablespoon) peanut butter, avocado, chia seeds, flax seeds, protein powder
Blend!
I add some ice too, depending on how thick I want my smoothie.  This Parsley, Kale, and Berry Smoothie calls for flat leaf parsley, fresh kale, frozen berries (like raspberries and strawberries), one banana, and ground flaxseed.  According to the recipe you should puree these ingredients with water in a blender until smooth, but I'd actually substitute the water with coconut water for added flavor.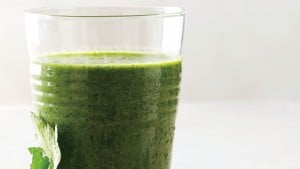 Courtesy of Bon Appetite
This refreshing Carrot Smoothie is ideal for first thing in the morning.  It's made with orange juice, sliced carrots, banana, fresh ginger, and ice.  I love the flavor of the fresh ginger in this drink!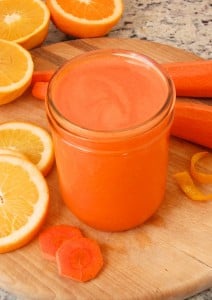 Courtesy of Healing Smoothies
This Blueberry Banana Protein Smoothie gets its protein from nonfat Greek yogurt.  You'll also add unsweetened vanilla almond milk, frozen blueberries, banana, and ice. This is a super, thick and creamy smoothie and it's perfect for those afternoon "sweet fix" treats.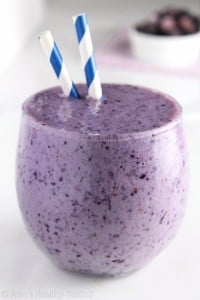 Courtesy of Amy's Healthy Baking
I hope you'll start creating your own healthy smoothie recipes this summer.  Next week I'm back with some new ways to add beets to your meals.
See all posts