Up until a few years ago, I thought of salsa in the traditional snack food/appetizer way–"salsa and chips."  The version I was familiar with was the tomato salsa, usually made with tomatoes, peppers, cilantro and onion.  I still love tomato salsa, but I've found that there are so many other versions, each with their own unique flavor, and salsa can be used in far more interesting ways than as a side to tortilla chips!
One of my favorite ways to use salsa is as a topping to chicken or fish, especially this time of year when you can do something simple, like grill your chicken, topping it with a flavorful salsa is the perfect addition.  This Grilled Salmon with Avocado Salsa is a perfect example of adding salsa to grilled fish.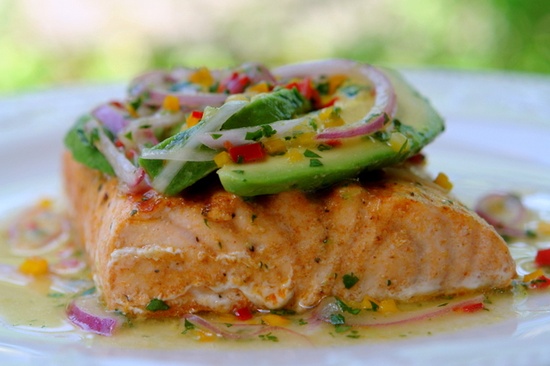 What's really nice is if you add a blend of sweet and savory–a combo of fruit and veggie in the salsa.  Topping an omelet with a fresh salsa that includes mangos, tomatoes, peppers and sweet onions not only makes an ordinary omelet  something special, it adds an extra serving of fruit and veggies to your day.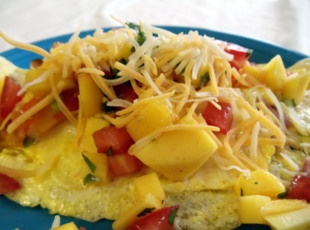 And what about dessert?  This deliciously sweet Strawberry Mango Salsa combines two in-season fruits into a salsa that can be enjoyed with cinnamon sugar pita chips as a sweet treat!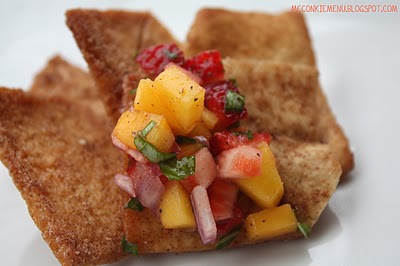 Finally, if you love those traditional salsa and chips as much as I do, try different salsa versions.  Roasted Corn Salsa, Texas-Style Citrus Salsa and Papaya & Black Bean Salsa are savory and simple to prepare.  Enjoy!
See all posts